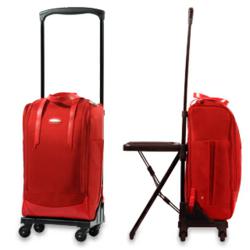 For years, I suffered with aches and pains in my legs
Layton, UT (PRWEB) February 23, 2011
Walkin'Bag, developed by CEO Etsuo Miyoshi, a polio survivor, is nominated as ''The Best Luggage Brand'' at the About.com 2011 Readers' Choice Award.
"For years, I suffered with aches and pains in my legs," said inventor, Mr. Miyoshi. "I needed a bag I could lean on and so I invented Walkin'Bag. Who knew a bag could make all the difference."
The Walkin'Bag comes with a curved "lean-on-it" handle which acts like a gliding handrail so legs and back are supported properly. It comes with a retractable seat holding up to 300 pounds. Such features have critics raving.
Walkin'Bag: the carry-on that doubles as a lawn chair and a desk
Budget Travel, Top 10 hottest new travel gadgets, January 21, 2011
Finally! A carry-on that doubles as a lawn chair! We don't know what took the luggage industry so long. Not only does this do-it-all case fit a week's worth of clothing, it moonlights as a chair—or a desk. Stuck in a terminal full of canceled flights? Turn the seat into a desk and start typing away (or simply unfold the seat, lean back, and relax).
Check Out Walkin'Bags' Easy-on-Your-Poor-Bod Travel Luggage
Gear Diary by Douglas Moran
My body is a mess. And I travel a lot. Well, I didn't know how good I had it until I read the info about the Walkin'Bag products. The creator of the design, Etsuo Miyoshi-san, is a polio survivor who decided–no doubt after walking through the airport.
Benefit of Walkin'Bag

You can "lean on", supporting up to 250 lbs.
Easily flips down, holding up to 300 lbs.
Spinning wheels for effortless movement.
Fits under most airline seats
###