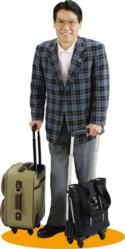 To save my aching back and legs, I invented a bag I could lean on
(PRWEB) July 28, 2010
Layton, UT From New York to California people are raving about the bag that saved their back. Designed to alleviate stress on the back, legs, shoulders, and neck, the Ballistic JetCart, a lightweight laptop rolling Walkin'Bag, carries up to 33 lbs of weight with the same effort it takes to carry a water bottle.
Inventor and Walkin'Bag CEO, Etsuo Miyoshi, knows exactly what the rave is all about. Mr. Miyoshi is a polio survivor and busy business traveler who invented WALKIN'BAG out of a personal need.
"To save my aching back and legs, I invented a bag I could lean on," said Miyoshi. The patented lean-on handle supports up to 250 pounds. One model of the Ballistic JetCart comes with a built-in seat that easily flips down, sets into place, and supports up to 300 pounds.
"People all over the world are discovering what it means to travel with confidence and ease," said Mr. Miyoshi. "I couldn't be happier knowing Walkin'Bag makes a difference."
Users Rave AboutWalkin'Bag
The Ballistic JetCart has proven popular with users who have found the roomy tote to be a versatile traveling and commuting solution.
1. After a complete lumbar fusion surgery, Marlin S. said Walkin'Bag gave him more mobility than a cane. "The doctor said I couldn't carry more than ten pounds after surgery. Walkin'Bag made that possible, reducing the stress on my arms and back so I could keep working."
2. Adele F. from New York suffers from scoliosis and purchased three Swany bags in April 2010. "I was extremely pleased with my bags because I have trouble standing for long periods and carrying extra weight. Because I can lean on the Walkin'Bag, they are especially good for my condition."
3. Frequent traveler, Kay N, raved about herWalkin'Bag after a recent trip. "The spinning wheels make it so easy to roll and the extended 'lean on' handle saves my tired legs and back while I'm standing in line. Thank you, for designing a bag for those who are living active lives despite physical challenges."
4. Ann. S. from Sewickley, Pennsylvania has Multiple Sclerosis and uses the Ballistic JetCart with a built-in seat. "The seat makes me feel confident because I always have a chair available to me, and I no longer need a cane. Thank you for a great product!"
BENEFITS AND FEATURES
With four Swivel-Glide wheels and a patented Curved handle, the Ballistic JetCart rolls effortlessly beside the user and gives extra ''lean on'' support. This handle supports up to 250 pounds and adjusts easily to 6 different levels up to 37'' high. The Ballistic JetCart is also available with a built-in seat model so users can easily rest and recharge. Seats support up to 300 pounds.
Ballistic JetCart

MSRP: $155, $170 (with seat model)
Dim: 22'' x 12'' x 8''
Weight: 4.8 lbs, 6.8 lbs (with seat model)
Fabric: Ballisstic Nylon
Handle Height: 6 levels, 27'' - 37''
Limited Lifetime Warranty
###