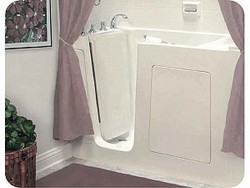 San Diego, CA (PRWEB) January 30, 2009
As an excellent online store for all things bathtubs, Simply Bathtubs is proud to introduce a state-of-the-art bathtub model that satisfies both conditions of form and function. For a limited time, the splendid Deep 31 Inch Walk In Bathtub will be an additional 10% off of the already affordable price. This is an absolute steal--considering this model has an unsurpassable attention to design and is constructed with only the best quality materials.
Where flexibility is concerned, you will not find a better marriage between practicality and luxury than you would with Simply Bathtubs' products. The Deep 31 Inch Walk In Bathtub is built to cater to those who are unable to or prefer not to use the standard bathtubs that force users to enter by climbing in. With our specially-made walk in bathtubs, you will see that mobility within and throughout the bathtub is incredibly easy. There are extra-wide sealed watertight doors that can swing inward so that one can safely enter the tub without worrying about hurting themselves. Another attractive feature about the overall construction of this bathtub is the fact that it is incredibly sturdy. Composed of a stainless steel skeleton and a durable fiberglass body that is coated with a resilient gel coat, it provides phenomenal strength. At the same time, it also eliminates flex which is often the cause of leaking for these kinds of walk in bathtubs.
What you normally expect from a conventional inexpensive walk in bathtub and what you actually receive from the walk in bathtubs from Simply Bathtubs will astound you. All of our products are made with a high level of attention to industry value and perfection while maintaining a relatively modest price for end users. Our walk in bathtubs are built to be solid with optimal functionality. Add on top of that a hydrotherapy whirlpool system and now it's in a whole different league. You can use your walk in bathtub to double as a relaxing spa and a sanitizing mechanism. Considering a 10% discount attached to the already inexpensive price, our bathtubs are a great buy.
About Simply Bathtubs:
Simply Bathtubs is the leading online source for everything bathtubs! They offer a wide selection of walk in bathtubs, whirlpool bathtubs, and clawfoot bathtubs for your bathroom remodeling project. Their bathtubs come in several different styles and sizes so that customers can find just the right bathtub for their space and unique interior design. If floor space is limited in a bathroom, then a corner bathtub or modern bathtub is a great solution, but if there is a lot of floor space and you want the bathtub to be the centerpiece, then a claw foot bathtub or free standing bathtub may work better. If you have special needs or elderly family members in the home, the quality walk in tubs offered are an affordable and stylish solution. Simply Bathtubs offers quality discount bathtubs at low prices, a wide selection, and a great customer service experience.
###