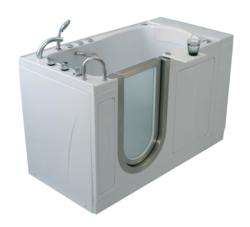 We're delighted to be a part of a quality organization such as the Better Business Bureau and know it will help improve our customers overall experience.
Denver, CO (PRWEB) August 30, 2012
In demonstration of its commitment to customer service, premium elderly bathtubs,high levels of quality control and product standards, Aging Safely Walk In Bathtubs has joined the Better Business Bureau. By becoming a member to the Better Business Bureau, Aging Safely Walk In Bathtubs is joining a network of business leaders that are dedicated to raising market standards and creating a better market environment for consumers and businesses.
Walk in tubs allow disabled and elderly people to take advantage of the therapeutic qualities that hydrotherapy tubs can offer, but customers of these types of businesses are always looking for quality assurance because of the dangers that a lack of quality can bring. The Better Business Bureau provides consumers with a certain level of confidence when dealing with Aging Safely.
Aside from the arbitration and complaint mediation services that the Better Business Bureau provides, consumers are now aware that Aging Safely meets with the Better Business Bureau's Code of Business Practices. This code is a list of requirements and standards that every business must meet and maintain in order to possess accreditation through the Better Business Bureau. The list and its requirements are based on the organization's eight principles of trust, which require that businesses build trust, advertise honestly, tell the truth, be transparent, honor promises, be responsive, safeguard privacy and embody integrity
As part of its mission to improve the lives of its customers, Aging Safely provides them with the bathroom fixtures they need to enjoy the pleasures and health benefits of bathing and therapeutic hydrotherapy, which is a healthful practice that has been used by people in various cultures for centuries. Studies indicate that this approach can potentially reduce inflammation, correct high blood pressure, improve circulation, relieve back aches and alleviate the pain associated with arthritis.
Often, however, elderly and disabled persons are unable to take advantage of these pleasures and benefits because of the many dangers that a traditional bath tub presents. According to the Centers for Disease Control and Prevention, nearly 30 percent of those who are 65 and older who injure themselves in a bathroom are diagnosed with bone fractures. For those who are 85 and older, 40 percent sustain injuries that require hospitalization. The CDC recommends that those who are older than 65 should take appropriate action to eliminate home hazards to help prevent potentially fatal accidents.
While a walk in bathtub presents people with an apparently safer option, the installation of a walk in bathtub is a process that depends on a high level of quality, efficiency and attention to detail. The demonstration of the company's commitment to these aspects of its business is one of the reasons it pursued membership with the Better Business Bureau.
Based in Louisville, Colorado, Aging Safely Walk In Bathtubs operates throughout the United States and Canada. The company provides bathroom supplies and parts in addition to the full installation of walk in tubs nationally.
Contact Information:
Zach Wennstedt
Aging Safely Baths & More
P.O. Box 270696
Louisville, Colo. 80027
Toll Free 1-888-779-BATH(2284)
http://www.agingsafelybaths.com