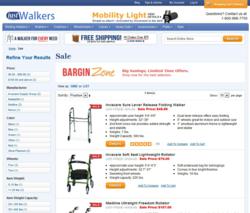 We figured we could save our visitors... time by just adding a section on the site dedicated to current deals
Ashton, MD (PRWEB) September 20, 2012
Bryan Mercer has worked as a licensed pharmacist for over 30 years. Now he's the CEO of JustWalkers.com, a site dedicated to helping visitors find any mobility related products and information they need. Recently, the site has been going through some renovations—including a new line or rollators being added as well as the production and addition of over 30 new mobility aid videos. The newest update is the addition of a Bargain Zone section.
"We get a lot of calls asking if we have any specials or deals," says Mercer. "We figured we could save both our visitors and our Call Center Reps time by just adding a section on the site dedicated to current deals." As before, sale prices are highlighted on product category pages, but now a visitor can go to the sale page to find everything currently being discounted.
Products currently on sale include the Medline Ultralight Freedom Rollator and the ever-popular walker accessory, Walkerballs. Just Walkers is also running an "Any Rollator Ships Free" special. But these aren't the only changes in store for Just Walkers. When asked about future projects, Mercer said, "Really it depends on what our customers want. Their feedback has a lot of weight. But I can tell you that we're planning to launch a series of How To videos, such as How To Choose a Walker Tray and How To Choose Between a Three or Four Wheel Rollator."
About JustWalkers.com
Just Walkers provides premium walking aids throughout the United States for people of all ages looking for the best mobility products at the lowest price. They understand the importance of choosing the perfect mobility device to fit your needs. With this in mind, they offer only the best products, parts, and accessories including detailed information about each product and numerous user reviews to help you with your decision. They are proud to serve those who seek information and assistance in determining which walking aid works best for them. With a wide assortment of walking aids at affordable prices, JustWalkers.com is determined to make your shopping experience worthwhile.