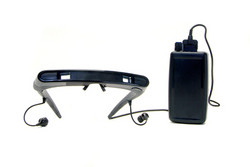 Haifa, Israel (PRWEB) February 24, 2010
Visual feedback has been found in numerous studies to improve the walking abilities of patients with Parkinson's disease, Multiple Sclerosis, Stroke, Cerebral Palsy and Senile Gait.
While early studies used equally spaced transverse lines drawn on the ground, later reports noted that other visual patterns, such as a checkerboard-like tile arrangement, also bring improvements.
Several studies, published in leading medical journals, such as Neurology, Journal of the Neurological Sciences and Journal of the American Geriatric Society, showed that use of a virtual reality device, the GaitAid displaying earth-stationary, checkerboard-like tiles, results in significantly improved walking abilities for movement disorder patients. The acquired benefits were shown to last well beyond the use of the device.
A recent study, presented at the 2009 European Neurological Society by Prof. Yoram Baram from the Technion Israel Institute of Technology, and accepted for publication by a leading medical journal, was the first to look at the significance of the particular visual pattern used.
Prof. Baram notes, "It is well accepted that visual cues which help the brain organize depth perception of the walking path, i.e. transverse lines segmenting the path, can provide immediate and even lasting improvement in walking for movement disorder patients.
The significance of the particular visual pattern used has remained an open question.
Specifically, a question of interest is the significance of incorporating a clear distinction between left and right. The arrangement of cues in a checkerboard pattern is matched to the geometry of human locomotion. In the context of walking, this geometry represents not only, as transverse lines, the reach of the leg in every step, but also the transition from one leg to the other."
Study participants that used a checkerboard pattern distincting left from right improved twice as much as participants that used transverse lines with no such distinction.
The GaitAid, a portable home-use device used in this study, includes a pair of headphones and specialized goggles which display visual cues and play auditory cues. It was perfected over the last decade to help the brain organize, balance and control the walking body.
No training is needed, simply put the device on and start walking. Walking sessions from 5-30 minutes with the GaitAid improve the body's sense of position and movement, balancing steps and enhancing the sense of timing for these movements. With practice, new neural connections are created in the brain so the improvement lasts even when the device is not in use.
For more information about the GaitAid, as well as information on obtaining a GaitAid for a 30 day trial period, use the following contact details:
Website: http://www.medigait.com
Phone: 888-777-9906
Email: support(at)medigait(dot)com
####