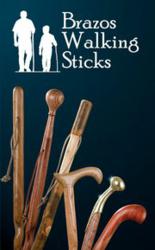 The best overall cardio exercise for any able-bodied individual is...brisk walking...

Livestrong.com
Waco, TX (PRWEB) November 04, 2011
The feasts of the season don't need to a burden on one's health. With so many battling obesity and other health-related issues, a multipurpose gift—both attractive and functional—makes the most sense, especially in this economy.
Furthermore, since it's a low-impact activity that virtually anyone can participate in, walking.about.com names walking as the premier way to exercise. To that end, a handcrafted walking stick or walking cane from Brazos Walking Sticks might be the perfect gift.
Brazos Walking Sticks are Made in the USA, and since they're customizable with a host of accessories and custom laser engraving, they're ideal for individuals, clubs, families, corporations, churches, schools, non-profits, and businesses. For example, recently a corporate manager commissioned Brazos Walking Sticks to customize a stick for his entire staff, complete with an embedded computer chip. With a wealth of possibilities to choose from, the variations on personalization and customization are virtually unlimited; and with custom laser engraving, Brazos Walking Sticks' walking sticks and walking canes can be personalized in countless ways. Engrave names, phone numbers, logos, flags, symbols, scripture, and more. Popular accessory options include compasses, thermometers, medallions, and spike ferrules. Check out the many types of folks---from hikers to geocachers to baby boomers and many more---who use Brazos Walking Sticks effectively on the company's blog.
Some popular walking sticks include the ergonomically designed FitnessWalker™, the collapsible Travelers Stick™, the monopod Photographer's Stick™, the handy Gardener's Yard Stick™, and the distinctly strong Twisted Hickory Walking Stick™, the company's bestselling stick of all time.
In this economy, budget-minded consumers will be pleased to know that the walking stick company caters to anyone's budget, from high-end Collectors Walking Sticks and Walking Canes to economically priced Brazos Bargain Walking Sticks.
To help even further with your limited gift dollars [or euros or other international currency], Brazos Walking Sticks is offering:
Great Shipping Deals

Free Shipping over $59 [UPS Ground] so Engraving and Accessories are more affordable
$10 shipping anywhere in Continental USA under $59 [UPS Ground]
Flat rate expedited shipping
$20 shipping anywhere in Canada [UPS Ground]
Low cost shipping to 250 countries with International Checkout
Solid Discounts

10% off for Senior Citizens and Baby Boomers MadeInUSA coupon [See Get the Deal of the Day on the website]
20% off for Group purchases over $300 [See Outfit Your Group on the website]
Real Buys

Bargain Walking Sticks "30 to 50 percent off standard retail price" [See Bargain Walking Sticks on the website]
Gift Certificates and Wish Lists are also available.
Folks can give a genuine gift this season from, and for, the heart. Brazos Walking Sticks and Walking Canes go hand-in-hand with healthy walking, hiking, backpacking and trekking.
Brazos Walking Sticks offers the largest assortment of handcrafted wood walking sticks and walking canes in the world, with the Quality of American Craftsmanship™, offering The Feel of Nature™ with a Lifetime Guarantee.
Social Media Sites:
Facebook
Twitter
###