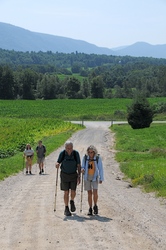 Best Adventure Travel Companies on Earth
Bristol, VT (PRWEB) September 10, 2009
VBT Active Vacations has announced 2010 departures for a new line of international walking tours to complement its popular biking vacations, known for exceptional value. The five new walking vacations visit European and South American destinations, and start at $2595 for 10 days. Unlike most walking tour companies, VBT includes roundtrip international airfare, and in an unusual move, for 2010 they are also including all air fuel surcharges.
VBT President Gregg Marston sees the expansion into walking tours as a natural step for the 39-year-old company, which was recently named among the "Best Adventure Travel Companies on Earth" by National Geographic Adventure magazine.
"VBT has always been about the overall travel experience," says Marston. "Walking, like biking, is an excellent means for discovery, because it connects you to your surroundings with all your senses. Our customers have been asking for us to include this exciting activity in our repertoire, so it was a natural fit."
VBT has been known for its strong customer focus. In recent National Geographic Adventure polls they were ranked among the top three "Best Bicycle Outfitters on Earth" two years in a row, and received client satisfaction ratings of 98.33/100 (the highest score of all top five competitors), and a quality service score of 94/100.
Marston also sees an easy operational fit as well as a philosophical one. "We've had long experience and great success at delivering high-quality travel experiences, while still providing exceptional value. Our walking tours will benefit from the same longstanding relationships we have with major international airlines and overseas suppliers, and the regional expertise and outstanding trip leadership that our biking tours are known for."
The newest collection of walking walking vacations showcases five destinations that have been most requested by VBT travelers:

Quiet Pathways of Tuscany, 10 days from $2595, including roundtrip international airfare
The Amalfi Coast & Capri, 10 days from $3145, including roundtrip international airfare
Ireland: Walking the West Country, 10 days from $2945, including roundtrip international airfare
Slow Road Through Provence, 10 days from $3395, including roundtrip international airfare
Peru: Machu Picchu & the Sacred Valley, 11 days from $3595, including roundtrip international airfare
All programs include round-trip international airfare, distinctive accommodations, most meals, guided sightseeing and activities, the services of two bilingual local VBT Trip Leaders, support vehicles and other transport, transfers, use of VBT walking poles, and more. Daily route choices and continuous road support give travelers the opportunity to tailor the pace to their individual tastes. Groups are limited to 14-20 travelers, with two dedicated local VBT Trip Leaders offering continuous support.
For more information on family adventure vacations and walking tours, please contact Paul Williams at 802-453-4811 ext. 3414, or visit our website.
About VBT
Vermont Bicycle Tours (now known as VBT Active Vacations) was founded in 1971 as America's original bicycle tour company, and is now the leader in active family adventure vacations. Started by a Middlebury College professor with a love of the open road, the fledgling company quickly grew beyond its home turf to offer bicycle tours of Europe. Today, VBT offers active biking and walking vacations in 22 countries around the world, from the US to Asia to Europe and beyond. With headquarters in an eighteenth-century dairy farm in Bristol, Vermont, VBT has stayed true to its small town roots and values, which include a reverence for the great outdoors, a tradition of neighborliness (extended around the world), and a commitment to responsible tourism and community service.
###