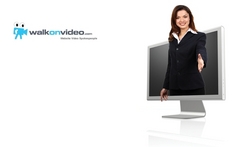 "Bring your Website to Life"
Newport Beach, CA (PRWEB) April 18, 2010
The walk on video is a new but fast-growing trend in the web marketing industry. As the name implies, it involves putting up clips of a person "walking on" to a page and talking directly to the viewer. The walk on video effect can be used on multiple website pages, and can feature any person or character. By adding a face and a voice to one's content, walk on videos offer a way to maximize a website's potential.
Walkonvideo.com, one of the pioneer providers of the service, says that most websites only have three seconds to capture a viewer's attention. Text and pictures alone, according to experts, cannot be absorbed fast enough to fit into this time frame. Walk-on videos offer the equivalent of a website spokesperson, combining words and images to convey a message more effectively.
One can choose to appear in the walk on video herself/himself, or hire a talent to deliver the message. The latter is a popular choice for website owners because it allows them to pick a virtual spokesperson who best fits the company's personality. Hiring a celebrity spokesperson is also an option, although it may cost more and the service may not be as widely available.
Web marketing professionals cite three main benefits to using a walk on video. First, it allows website owners to talk directly to their audience giving them more control over what it being said. Second, it tells viewers that the site is up to date on web technology. Lastly, it gives the site a sense of interactivity, making the viewer feel more like part of the content than a passive receiver.
Another important reason to use a website video spokesperson is that more and more web users have access to video content. The Flash technology needed to create the walk on video effect is now well-supported by browsers and are no longer limited to tech-savvy users. This is why many business owners, both online and offline, are taking on the new trend while it's new and groundbreaking.
The walk on video effect can work for any website, but is particularly useful for sites that place a premium on credibility. Consultancies, design firms, and planning services can all benefit from a website video spokesperson. As long as the content is clearly written and the image is well presented, walk on video can go a long way in raising a site's traffic and improving conversion.
Walkonvideo.com offers a wide range of services, including a pool of walk on video speakers. They also provide script writing and editing services, as well as video sharing options on YouTube and other popular channels. One can choose a website video spokesperson according to appearance, gender and other features, or even choose a celebrity spokesperson, such as Pocahontas from Real Chance of Love on VH1.
# # #