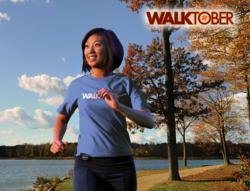 Exercising outdoors should be the first and most widely prescribed activity for everything from obesity to feeling blue.
Midland, MI (PRWEB) August 07, 2012
Scientific evidence that outdoor exercise is good for the mind as well as the body is well documented in the Health Enhancement Systems white paper, A Healthy Dose of Nature Is Good for Business (http://www.hesonline.com/pdf/whitepapers/Green_Exercise.pdf). Hundreds of organizations have experienced these benefits first hand by implementing Walktober, the employee wellness campaign that motivates participants to get outside and get moving. "October is a perfect time to implement a comprehensive walking campaign," notes Dean Witherspoon, President and founder of Health Enhancement Systems. "After promoting Walktober for 9 years now, the participant comment we see thousands of times every year is how much better they feel just being outdoors and enjoying nature — while increasing overall activity by up to 40%."
While all exercise is good for you, there's more to gain by moving through nature than on a treadmill. Some proven benefits of outdoor exercise are:

The evidence in favor of getting outside for regular exercise continues to grow … a 2012 Glasgow University study reports a 50% improvement in mental health when people are active outdoors vs. the gym. Specific improvements involved mild depression, sleep problems, stress, and feeling unable to cope.
"Exercising outdoors should be the first and most widely prescribed activity for everything from obesity to feeling blue," comments Witherspoon. "Forget about training heart rates, warming up and cooling down, and all the other things that get in the way. Just set a comfortable pair of shoes by the door and get outside for a brisk 20-60 minute walk — it's the best thing you can do for yourself."
Organizations can inspire employees, members, and clients to get outside and get moving this fall with Walktober. This fun, easy-to-implement workplace fitness competition includes individual, buddy, and team features as well as social connection tools to help participants support each other along the way. Walktober's online version takes participants on a virtual tour of the most colorful fall scenes in North America. To learn more, watch the 2-minute video at http://www.walktober.com.
Health Enhancement Systems creates employee wellness challenges for organizations in North America and throughout the world. More than 20 effective, engaging HES wellness competitions have been adopted by over a thousand organizations — serving hundreds of thousands of participants successfully.
For more information about Health Enhancement Systems, visit http://www.HealthEnhancementSystems.com or call 800.326.2317.