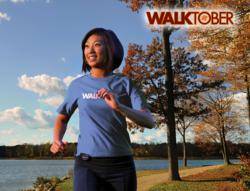 We wanted to build something really fun that everyone could do.
Midland, MI (PRWEB) September 01, 2012
Bangor Township School District Wellness Program coordinators Tina Rogers and Holly Hartz are leading the effort to build healthier schools and community this fall and beyond. The district is implementing Walktober during National Walking Month. Not only is Bangor Township Schools a leader in academic achievement, but also promotes wellness amongst their 2500 students as well as their faculty and staff of 302 in Bay City, MI, a Mid-Michigan town of 35,000 on Lake Huron.
"Bangor Township Schools has always taken pride in our community role" notes Rogers. The district has made their wellness campaigns — including last year's annual 5K "Achieve Your Dream" Scholarship Race and a very successful Walk Michigan program — events that anyone can join. "Our youngest walker was 4 and the oldest was 75" recalls Hartz. "When you get that wide-ranging support it reflects well on the schools and contributes to a sense of pride within not just the district but the community as a whole."
Walktober is a 1- to 2-month walking campaign with a fall theme that inspires participants to get out and experience the physical and mental health benefits of outdoor exercise. Now in its eighth year, hundreds of organizations from all over North America have implemented this program with great results. Participants track walking minutes or steps, moving along a virtual trail from the Northwest through parts of Canada to the east coast, arriving in New England. Along the way, brilliant images of fall foliage reinforce their daily commitment to walk.
"We wanted to build something really fun that everyone could do," explains Dean Witherspoon, President and founder of Health Enhancement Systems — creators of Walktober and more than a dozen other workplace wellness programs. "Judging by the thousands of positive comments we get each year, we know that Walktober is helping a lot of people improve their health. And we're delighted to help Bangor Township School District contribute to the health of their community as well."
To learn more and to participate in the Bangor Township School District Walktober campaign, visit their Facebook page, website http://www.bangorschools.org or contact Tina Rogers rogersc(at)bangorschools(dot)org.
******
Health Enhancement Systems creates employee wellness challenges for organizations in North America and throughout the world. More than 20 effective, engaging HES wellness competitions have been adopted by over a thousand organizations — serving hundreds of thousands of participants successfully.