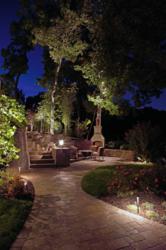 Expert information and tips on walkway lighting techniques for creating inviting and functional walkways.
Calimesa, CA (PRWEB) October 25, 2012
New from LandscapingNetwork.com, the leading source for landscaping ideas online, is expert information and tips on walkway lighting techniques for creating inviting and functional walkways.
Walkways come in all forms and can be made from an assortment of materials. Most popularly, flagstone and concrete walkways can be found leading the way at homes and businesses across the country. And no matter where the placement, proper lighting techniques create safe and inviting walking environments for pedestrians everywhere.
Landscape lighting is not a subject to be taken lightly. Specifically pathway lighting can mean the difference between a path that is fully functional and safe to walk at night, to one that cannot be used at all. For this reason The Landscaping Network has published a handy article featuring expert tips on walkway lighting.
This is a guide for consumers and designers faced with a walkway lighting project. The article covers path and step lighting techniques, and offers two helpful diagrams showing where to properly place lights. The site also covers helpful tips on lighting mistakes to avoid, like placing lights too close together, and more.
For more information on walkway lighting tips, and to find local lighting landscape contractors, visit LandscapingNetwork.com.
Photos courtesy of McKay Landscape Lighting in Omaha, NE.
About LandscapingNetwork.com
LandscapingNetwork.com works with a team of professional landscape designers and writers to bring together the very best landscaping resources and information available. Homeowners, landscape designers and architects, builders and more can also stay up-to-date through the site's extensive collection of articles, landscaping photos and videos on landscape design ideas, products and more.
For consumers ready to turn their landscaping design dreams into reality, the site offers an easy-to-use Find a Contractor directory to find local landscape contractors and designers throughout the United States and Canada.