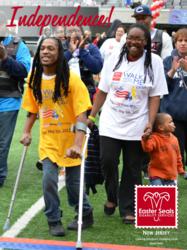 The walk will raise critically needed funds for programs that enable thousands of children and adults with disabilities and special needs to live the best quality of life possible
East Brunswick, NJ (PRWEB) April 24, 2013
Walk with Easter Seals!
On Saturday, May 11th, over 1,000 members of the community are expected to join together and take the first step toward making a difference in the life of someone with a disability at Easter Seals New Jersey's 4th Annual "Walk With Me & 5K Run" event.
Easter Seals New Jersey provides various disability services to over 7,000 New Jersey families with autism and other developmental disabilities, mental illness, homelessness, and other special needs. This year Easter Seals New Jersey is celebrating its 65th Anniversary, making this event even more significant.
For the second consecutive year, the event is being held at MetLife Stadium, Home of the New York Jets and New York Giants. Registration begins at 8:30 am and the 1-mile walk/5K race will kick off at 10 a.m. by event emcee and TV personality, Katie McGee.
The walk itself will be led by NY Giants Superfan "License Plate Guy" who will be available for photos and autographs along with special guests Miss New Jersey, Snoopy, and scheduled appearances by NFL players such as Justin Trattou, and more (to be announced). New York Metro-area radio station 92.3 NOW, Central Jersey talk radio station 1450 WCTC and other vendors will be present with giveaways.
Guests will also have a chance to meet and walk alongside Easter Seals New Jersey's five event Ambassadors - people whose lives have been impacted by Easter Seals and the services it provides.
"The walk will raise critically needed funds for programs that enable thousands of children and adults with disabilities and special needs to live the best quality of life possible," says Brian Fitzgerald, CEO and President of Easter Seals New Jersey.
A Fun Event for the Entire Family
Exciting festivities for the entire family will take place before and after including a kid's fun football toss on the field, a health fair on the sidelines, face painting, giveaways, an after-party with race prize awards for top runners in a variety of categories, live music, refreshments, and more. All participants receive an event T-shirt with $25 registration and other prize incentives based on their levels of sponsorship or funds raised.
"We're grateful for the continued sponsorship of CVS stores throughout the state and their commitment to forming teams as well as Century 21 and a host of other businesses, media outlets, and individual donors. To have the participation of so many dedicated individuals and business is an honor; the positive outpouring of support helps keep us going strong," Fitzgerald says.
In addition to National Sponsors CVS|Caremark®, Century 21® Real Estate, and Amway, this year's local event sponsors include MetLife Stadium, 92.3 NOW Radio, 1450 AM WCTC Radio, 92.7 WRNJ Radio, 98.7 ESPN Radio, 99.1 STAR Radio, 1250 AM WMTR Radio, Erika Lynn Foundation, Flaghouse Promos, Kevin Paccione, KPMG, Lamb Financial, Robert Half International, Route 46 Chevy/Route 23 Honda, Aerotek, Audience Pleasers, Bald Eagle Pharmacy, Dave's Suburban Disposal, Eisner Amper, Line Systems Inc., Modell's Sporting Goods, New Concepts Leasing, NJM Insurance, Phyl's Fund, Sound Connection Entertainment, TD Bank, Value City Furniture, Village Office Supply, Winsor Staffing, Camp America, Dall Holdings LLC, Holy Name Medical Center, Lox Consulting Associates, PepsiCo, Saker ShopRites, and St. Peter's Healthcare.
"Anyone who comes out on May 11th to walk, run, roll or stroll alongside our five honory ambassadors is helping to demonstrate the importance of understanding, accepting and embracing the special characteristics that make us all unique and valuable individuals," adds Fitzgerald. "And, even if you're unable to join us, you can still help by sponsoring someone who's walking or by making a donation at walkwithme.org/nj."
To register to walk or for information on sponsoring a walker, making a donation or volunteering, please visit http://www.walkwithme.org/nj. Additional inquiries regarding corporate sponsorship, donation of prizes or other giveaways should be directed to event manager Michelle Kasper at (732) 955-8368 or by email to mikasper(at)nj.easterseals(dot)com.
About Easter Seals New Jersey:
The mission of Easter Seals New Jersey is to help individuals and families with disabilities or special needs to live, learn, work and play in their communities with equality, dignity and independence. A leading non-profit provider of comprehensive services for individuals with developmental disabilities including autism, physical disabilities, mental illness and other special needs, our services have been geared toward helping individuals remove obstacles along their path toward independence and full community-integration since 1948.
Easter Seals is committed to creating solutions and providing programs that produce tangible results in the lives of thousands of families in New Jersey. For more information on Easter Seals New Jersey and its statewide disability services, please contact us at 732/257-6662, or visit on-line at eastersealsnj.org or facebook.com/eastersealsnj.
# # #