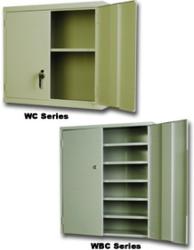 Wall Cabinets make dead space productive. Customers Love A Plus Warehouse's Wall Cabinets.
Boston,MA (PRWEB) December 18, 2012
A Plus Warehouse is starting 2013 will wall cabinets week. Customers just don't appreciate the importance of wall cabinets compared to industrial storage cabinets. Wall cabinets are much smaller, but cumulatively have a great impact on manufacturing plants. According to Ed Stairman, "A simple Wall Cabinet will greatly increase the storage space in any work area."
Consider the wall behind a typical work bench. The wall goes unused for the most part. With a simple wall cabinet mounted, that wall becomes an active storage area.
Customers may comment that wall cabinets simply do not have the storage of a traditional floor cabinet. That clearly is true, but one should consider that floor cabinets can't be mounted to walls! Every cubic foot of storage taken off the floor and put into dead space delays the expensive process of adding space. Although one wall cabinet may only provide 3 cubic feet of space, consider what 100 of these will do for the factory.
A Plus Warehouse, being a full line materials handling dealer, offers a wide range of storage cabinets including wall cabinets. There are several lines to mention by name:
1. Pucel - Located in Clleveland, OH – Pucel enterprises manufactures high quality work benchs , cabinets and shelving as well. Pucel has recently taken on lean manufacturing which provides amazingly consistent quality and sproduct cycle times. For a great quality domestically manufactured wall cabinet, Pucel Enterprises is a fine choice!
2. Hallowell List – Our friends at Hallowell List never sleep, and are always on the lookout for new items. They recently introduced their 400 series that is available either set up of unassembled. For quality American made wall cabinets – that are available KD, consider Hallowell List
3. Tennsco – The same company that has produced quality industrial lockers also manufactures storage cabinets in Tennessee. No one has ever been fired for ordering a storage cabinet from Tennsco – a national leader.
4. Durham Manufacturing – Operating from both Connecticut and Texas , Durham manufactures an amazing array of materials handling and storage equipment. Durham is especially known for Bin Cabinets , Wide Span Racks, and heavy duty storage equipment. Durham Manufacturing is located in Durham , CT , and the joke goes that the company is so impressive, a city was named after it. (A same joke at Akron, Ohio being named after Akro Mils plastic bins)
5. Stronghold – 12 Gauge cabinets – many in stock. If durability and quality is the issue – Stronghold is the choice.
6. Edsal Manufacturing – Render onto Edsal that which is Edsal's. Edsal is the 800 pound gorilla in the storage cabinets space. Located in Chicago , Edsal is the default supplier of the 'Big Boys' (by which A Plus Warehouse means billion dollar dealers) Edsal offers a deep line , and A Plus Warehouse is pleased to offer Edsal through franchised wholesalers.
A Plus Warehouse is the source for wall cabinets and warehouse equipment , so please give a call at 800-209-8798 for any help.