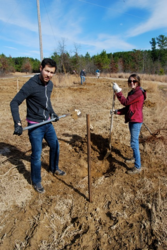 Using vinyl wall art is an environmentally friendly way of decorating because the pieces can be used repeatedly and in different applications if they are properly maintained.
Nashville, TN (PRWEB) February 14, 2012
Walls Need Love, a prominent wall decal design firm, recently planted over 150 fruit trees at the Elephant Sanctuary in Hohenwald, TN. Varieties of trees planted included: apple, pear, peach and plum, which are all expected to produce food for the elephants for years to come at the 2,700-acre sanctuary. Participating in this environmental effort were Walls Need Love Owner Ali Abrahimia, Operations Manager Chad Harris and several other Nashville-based staff members of the prominent wall decal company.
The Elephant Sanctuary, which was established in 1995, is the largest habitat refuge in the United States and is devoted specifically for endangered African and Asian elephants. It was created to provide a haven for old, sick or needy animals retired from circuses or zoos. The sanctuary encompasses old growth forests, as well as pastures, springs, ponds streams and a 25-acre lake. Other facilities include a 17,000-square-foot state-of-the-art elephant house, and separate habitats for African and Asian species.
"At Walls Need Love, we have a particular interest in the environment and in promoting conservation efforts like The Elephant Sanctuary, which provides homes for elephants who cannot be returned to the wild," said Walls Need Love Owner Ali Abrahimia. "Efforts like planting these fruit trees and our company's ongoing commitment to organizations like SoundForest.org, an eco-charity whose goal is to better the environment, reflect our commitment to improving the world we live in."
The environment at The Elephant Sanctuary, 85 miles southwest of Nashville, is spacious and rich, providing 2,200 acres for the Asian habitat and 300 acres for the African habitat, along with a 200-acre quarantine facility. Captive elephants cannot be returned to the wild because they have no knowledge of how to deal with dangerous situations on their own. The Elephant Sanctuary gives them a natural environment in which these animals can interact and socialize according to their natures, without predators and with minimal intervention by humans.
At the same time, the sanctuary also provides opportunities for research and education. The Elephant Sanctuary regularly provides access for researchers conducting non-invasive studies, the results of which can be used to study elephants living in the wild. Education on African and Asian elephants is ongoing at the sanctuary through displays and visitor programs.
The creation and production of vinyl wall decals at Walls Need Love is consistent with the company's mission to help save the environment. In an age where many items are made for one-time use and then thrown away, Walls Need Loves wall decals can be used over and over again.
"Using vinyl wall art is an environmentally way of decorating because the pieces can be used repeatedly and in different applications if they are properly maintained," said Chad Harris, Walls Need Love operations manager. "Not only are applying wall decals easier than painting a room, they also do not emit dangerous volatile organic compounds that are still present in many commercial paints."
Walls Need Love custom manufactures a wide variety of vinyl wall decals ranging from initials and quotations to themed subjects including cartoon characters, flowers, abstract images and everything in between. The company is also able to produce unique vinyl wall art from customer photographs. Worldwide shipping is available.
###