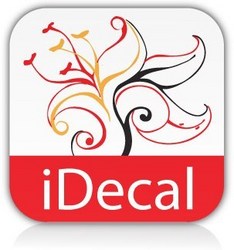 iDecal is a fun all-ages app that allows users to customize wall decals and preview designs on their wall. Share each creation via Facebook or Email and inspire others!
Chicago, IL (PRWEB) February 16, 2011
iDecal is a powerful visualization tool that brings the world of WALLTAT Wall Decals into the palm of your hand. iDecal allows you to virtually apply WALLTAT Wall Decals to a wall in your own home or to a stock wall in the room scene library. It also allows you to create custom WALLTAT Wall Decals from new or existing photos on your iPhone or iPod touch.
"The iDecal App is an exciting tool that allows users to customize wall decals and preview the design on their wall. It also allows them to share each creation via Facebook or Email.," said Jordan Guide, the founder of WALLTAT.com. "They can preview products on their wall in different color options, sizes, orientations and combine multiple designs to create wall art that is consistent with their room theme."
WALLTAT has over 500 exclusive designs of wall decals that can be customized in 34 colors, 5 sizes and an orientation option for the ultimate product customizationt. In this first release, iDecal features 20 of WALLTAT's most popular wall decals and a "create my own" feature that allows customers to create customized wall decals for infinite design possibilities. Preloaded designs and custom WALLTAT creations can be combined on a single screen to create the perfect wall mural scene.
"We have included popular products from Kids Wall Decals, Wall Art Decals Tree Wall Decals and more in our first release of the iDecals Free iPhone App," said the founder.
Ever wonder what you would look like as a WALLTAT?
iDecal lets you do just that. WALLTAT any image with the tap of the "WALLTAT IT!" button. This proprietary technology converts your photos into WALLTAT art that can be submitted for purchase seamlessly. WALLTAT anything from your friends and pets to drawings and objects and customize your designs with an intuitive toolbar that includes crop, size, orientation and 34 color options.
iDecal gives you power to visually transforms your space by taking a picture of your wall and preview a wide array of designs to create the perfect WALLTAT mural for you. Once you are happy with your design, you can share it with your friends via Facebook or email, and inspire them to create their own.
The WALLTAT Products Library within iDecal, allows you to preview stock designs in 34 color options and over 1000 background color options. This is the perfect tool for visualizing the color of your painted wall with customized WALLTAT wall decals. Once you are happy with your options, you can click the "Buy it Now" button to go directly to the product page at the online store.
While iDecal is intended for demonstration purposes only, the relative sizing feature allows you to enter the size of your wall and preview WALLTAT designs with amazing accuracy. The more accurate your measurements are, the better your results will be. iDecal can handle walls from 40 to 200 inches wide.
"As an interior designer, iDecal is an indispensible tool for me, as I can show clients my WALLTAT concepts right on their walls," said Guide whose interior design practice is based in Chicago. iDecal challenges interior designers and architects to go beyond the frame when thinking about art. WALLTAT has coined the term "Art Without Boundaries" and this unique wall décor solution can be incorporated into any design project, residential or commercial. Design professionals are encouraged to contact WALLTAT for professional accounts.
iDecal also connects to the WALLTAT mobile website that makes browsing and shopping easy on mobile devices. It also lets you connect with WALLTAT via Facebook, Twitter and Blogger for up to date news and information on WALLTAT Wall Decals.
Explore the infinite possibilities for yourself by downloading the Free iDecal app today at the App Store!
What is WALLTAT?
WALLTAT makes ultra thin vinyl wall decals that are an ideal solution for those looking to transform interior spaces quickly and easily. Made of removable self-adhesive vinyl, WALLTAT Wall Decals are available in over 500 designs, 34 colors, 5 sizes and an orientation option. Explore themes from nature, pop culture, kids, glass décor and more. WALLTAT is a DIY product with a quick peel and stick application. Unlike wall stickers that are reusable, wall decals are a more professional looking, one time use product that can be removed without damaging your walls. They can be used in living rooms, bedrooms, dining rooms, kids rooms and nurseries, play rooms, offices, and any other room that needs interest.
For more information connect with WALLTAT at the contact information provided on the top right hand side of this page or via Facebook(/walldecals) or Twitter (@walltat).
###