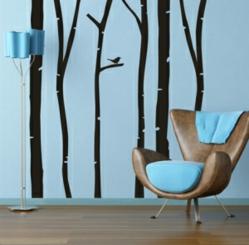 Katazoom vinyl wall decals are very cool. They add a certain element to your home which makes it look wonderful! I used the vinyl clock, and it is one of the first things my friends and family comment on! They want to know where they can get one too!
Los Angeles, California (PRWEB) November 21, 2012
Sweepstakes Ninja is pleased to welcome Katazoom as a Sweepstakes Giveaway sponsor in its Sweepstakes Draws. Katazoom delivers quality wall decals, provides excellent customer service. They feature hundreds of quality wall decal products, ranging from vinyl wall clocks, vinyl wall art, and more. Application is a simple process. Sweepstakes Ninja is connecting consumers with Katazoom through their innovative sweepstakes giveaways and draws service.
Sweepstakes Ninja is promoting the Katazoom line of wall decal products through an online video review, partner newsletters, website forums, live video chats, and third party advertisements. Contestants have a chance of winning a $50 Katazoom wall decal gift card, applicable to any of their products through their online store. The products are shipped in a compact container, contain full instructions on usage, and can be easily applied to any room in your home or office. They add an element of elegance to any residence.
The sweepstakes promotion officially runs until December 1st, 2012. It is a daily entry sweepstakes that entrants looking to improve their home or office decor may enter. To increase their chances of winning, the entrant may share sweepstakes links with friends, family, and through social media. This is a win-win situation for both Katazoom and the entrant. Entrants increase their chances of winning award winning products, and more people learn about the Katazoom line of products.
For more information about how Sweepstakes Ninja promotional marketing services deliver profits for companies, visit http://www.sweepstakesninja.com/site/company_sweepstakes/.
About SweepstakesNinja.com
SweepstakesNinja.com is the leading provider of fun and interactive sweepstakes. The company matches consumers with companies, in a fun and interactive manner. Consumers have the chance of winning amazing prizes. Companies benefit from daily exposure to their brands, word of mouth advertising, customer loyalty, and long term increases in profit. Visit http://www.sweepstakesninja.com/ for more details.