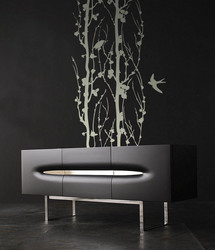 I was tired of not being able to find these resources for my interior design projects, so I guess I had to be the one that made them available.
Chicago, IL (PRWEB) January 13, 2010
"The 2010 Wall Decals Collection has a little something for everyone," said Jordan Guide, founder and Chicago based interior designer. "From kids wall decals, to more sophisticated designs for young adults, this collection covers everyone."
WALLTAT entered the wall decals market just 2 years ago and quickly got the attention of design professionals with its fresh designs and ability to customize sizes and colors. "WALLTAT is truly a made to order company and I love that because it tells me that everything we make will be used." Jordan's passion for sustainable design and low waste has shaped an efficient production process allowing for wall decals to be customized in 34 different colors and sizes up to 10 feet wide. WALLTAT also has a commercial design department that creates custom graphics for interior design professionals and hospitality clients.
But wall decals are not only thing that WALLTAT does well. This year's collection also features new designs for the WALLTAT "Green" wallpaper collection. Furthermore, customers that need a specific look can create custom wallpaper through WALLTAT.
Printed with eco-solvent inks on an ecological cloth, WALLTAT wallpaper is highly flame retardant and approved for most commercial uses (Rated :M1/B1/C1/NFPA 701/CSFM/MEA). "The ability to print custom wallpaper is an interior designer's dream. It just opens up a world of possibilities," says Jordan.
Customers are getting the idea that nothing at WALLTAT is standard and this is due to years of frustration admits the founder, "I was tired of not being able to find these resources for my interior design projects, so I guess I had to be the one that made them available."
So how does a new startup come into the market in arguably the most unfavorable market conditions, and succeed? Easy! "Delivering value," says Jordan, "our customers are looking for affordable ways to decorate interiors and our products are affordable and stylish."
WALLTAT's success for innovative design was recently featured on "House Calls" a Ron Hazelton hosted show. In his segment Ron shows just how quick and easy our wall decals can be installed. His comments suggest that the wall decals design is that of a fine artist.
With the 2010 Collection, WALLTAT has expanded its product offering to nearly 1000 designs and is not looking to stop anytime soon. WALLTAT actively seeks new designs from artists from around the globe and is quick to add them to its site and other distribution channels.
For more information on WALLTAT products and distribution contact them toll free at 888-WALLTAT or email at info(at)walltat(dot)com.
###