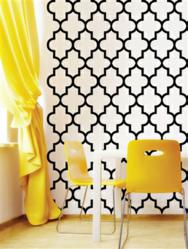 This is our most exciting wall decals collection because it gives customers even more flexibility in their design choices
Chicago, IL (PRWEB) October 02, 2012
WALLTAT has just unveiled its Fall 2012 collection of wall decals that includes versatile patterns, wall quotes and neutral color options to coordinate perfectly with any interior.
"This is our most exciting collection because it gives customers even more flexibility in their design choices," said Jordan Guide, founder of WALLTAT at the unveiling event in Chicago.
Rather than choosing a single design there are now packages of patterns, borders and shapes that can be joined together or positioned apart to span an entire wall. The packs can also serve as room borders or accents around doors, windows or furniture pieces. "I use them for affordable solutions in creating focal points in my design work," said Guide.
During the event an installation demo titled "So Easy a 6-year Old Can Do It", featured Guide's nephew installing The Robot Crossing 12-pack, to emphasize the ease of installation of WALLTAT wall decals.
Among the most popular designs with attendees was The Ironic Mustache Set, which consists of a collection of 12 varying mustache styles. This quirky and humorous design proved to be a conversation starter with all that passed by it. Other favorites were the Room Border Set, the Trellis Pattern and the Damask Accent. Installations varied from vertical rows or horizontal strips. One wall had the trellis pattern linked together serving as a modern wallpaper alternative. "By creating wall decal packs we are offering even more versatility to our customers, so they can easily position stylish patterns to best fit their wall shape and size," added Guide.
Another highlight of the event was the announcement of Wall Quotes, an entirely new collection of popular sayings, famous quotes, custom monograms, names and lettering. Guide had chosen inspirational quotes from Buddha and Mother Theresa but you can create your own quotes that resonate with you. Other popular sayings available are "Sweet Dreams", "Relax" and "Once Upon a Time" that may suit any home or office setting in need of that added touch.
All product displays also featured new vinyl colors that have been added to existing color options. "This was an entirely customer driven addition as customers have been requesting more neutral color palettes," acknowledged Guide. Colors such as Taupe, Ivory, Light Orange, Lilac and Swimming Pool are now part of the 34 vinyl colors to choose from, along with size and orientation.
"We are really proud to have rolled out such a successful collection of new products, categories and color offerings in 2012. Starting early 2013 we will have even more exciting news and services to share with our DIY fans. They are in for a big surprise!" says Guide.
WALLTAT was founded in 2008 by Chicago based interior designer, Jordan Guide. Today it is a leading online retailer and manufacturer of customizable wall decals in a variety of themes for kids and adults. It has been seen on popular do it yourself TV shows on HGTV, ABC, DYI Network and others. For more information contact us at the numbers to the right.