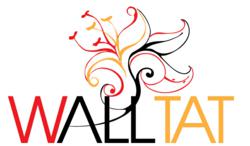 I couldn't imagine a more perfect partner to bring our wall decal designs to store shelves
Chicago, IL (PRWEB) October 03, 2011
The popular online wall decals company, WALLTAT announced today its licensing deal with YORK Wallcoverings that will bring its most popular wall decals to store shelves nationwide. The brainchild of interior designer Jordan Guide, WALLTAT.com has caught the attention of consumers, interior designers and architects that are looking for affordable ways to add impact to interiors. Now it has also received a stamp of approval from a leader in the wall covering industry- York Wallcoverings.
"As an interior designer, I was very familiar with York products and couldn't image a more perfect partner to bring our wall decal designs to store shelves," said the founder.
The first product to be licensed by WALLTAT is the best selling "Kids on Swings Wall Decal" in its signature chocolate color. This design has become the décor of choice in baby nurseries and kid's rooms according to Guide. "It's just a great, gender-neutral design that adults can appreciate too. Let's face it, adults spend quite a bit of time in these rooms, so they want something that is pleasing to the eye," she added.
The design that made its debut earlier this summer, retails for $29.99, and is already being carried by Sears, Toys R Us, Menards and countless web portals including Amazon and EBay. Retailers interested in carrying the product can contact WALLTAT for wholesale pricing. Customers that are looking to customize the size and color of wall decals can continue to do so at WALLTAT.com.
The kids wall decal is also included in WALLTAT's iDecal, a free application that allows users to preview wall decals on their wall and customize it to their liking. The iDecal app also allows users to create custom designs from pictures they take with their mobile device. iDecal is available for free at Apple's App Store and is compatible with iPhone, iPad and iPod with more platforms coming soon.
WALLTAT is an alternative wall décor company that specializes in customized wall decals for kids and adults. Customers can select from over five hundred designs and customize the size, color and orientation of each. Sizes vary from two to twelve feet in width. Trade professionals such as interior designers and architects can create custom designs for their elevations.
For more information on all WALLTAT products and wholesale pricing on the Kids on Swings Wall Decal connect with WALLTAT via social networks below or call 888-WALLTAT.
Facebook: http://www.facebook.com/walldecals
Twitter: http://www.twitter.com/walltat
Blog: http://walldecals.walltat.com
###