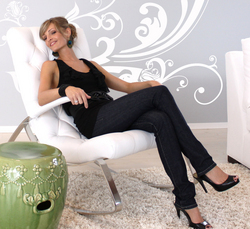 So I figured, why not let others in on the fun.
Chicago, IL (PRWEB) August 4, 2009
About one year ago, Jordan Guide, a Chicago based interior designer, envisioned bringing high-quality, artistic wall decals to the masses.
Twelve months and thousands of visitors later, Guide has seen that dream become a reality with the launch of her online store WALLTAT.com specializing in wall decals and alternative wall decor.
"I found myself using wall decals, as an inexpensive way to add impact to my interior design projects," explained Guide, who is creating quite a buzz in Chicago's interior design scene. "So I figured, why not let others in on the fun. "
Guide's first collection was composed of her more popular designs for kids, as well as some nature and baroque inspired designs for young adults. "I wanted to bring something for everyone, and we are adding new designs as they are available. We also do custom work for those that want something a little more specific," says Guide.
If that is not enough, Guide has also launched an artist program, where others can submit their designs and generate royalties from their sales. "There are so many talented people out there, and I wanted to give them a platform where they can benefit from their great designs," she explained. So, if you have a passion for graphic design, WALLTAT may be just the partner for you.
"Our GreenDeco line is one of my favorite new products," says Guide, speaking of her new wallpaper collection. "It is high-resolution wallpaper that is printed on a lightweight polyesther cloth." GreenDeco also boasts some great Green Features:

Conceived without harmful PVC's, phosphates, formaldehyde
No Volatile Organic Compounds (VOC's).
Printed with eco-solvent inks that do not contain nickel or VOC's
Does not give off any odors or pollutants.
8-color printing process
Colorful and lively artwork on a matte finish vinyl cloth eliminates glare.
Achieves maximum visual impact from all angles.
GreenDeco is also versatile. Aside from its use as wallpaper, it can be stretched onto canvas frames or hung as banners for a more mobile application.
"I really couldn't be happier with the way customers have responded to our wall decals and wallpaper. It seems like it was just yesterday that we posted our first product and now we have over 500 designs," says Guide.
"It has been an amazing first year and we want to thank everyone that has contributed to making WALLTAT such a great success-Thank You!"
You can connect with WALLTAT via:
FACEBOOK: Wall Decals
Twitter: Wall Decals
Blogger: Wall Decals
###