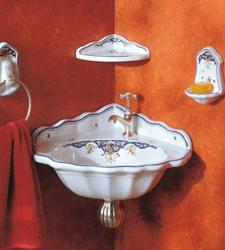 Turning a plumbing-adjacent closet into a water closet is an effective and inexpensive way to add a half bath. And the best way to make the most of a very small bathroom space is to install wall mounted bathroom sinks.
(PRWEB) August 31, 2012
HomeThangs.com – the Home Improvement Super Store has made their goal to deliver the right product to the consumer, with that in mind, shopping and home design tips, as well as special product selections are being introduced.
Having too few bathrooms is a problem one can run into no matter how big or small the home. But adding an addition to a home or moving into a new one aren't always practical options. Even a reasonably sized master bath can feel crowded if two people need to use it at once. So what's a homeowner to do when the morning waiting line for the bathroom is getting out of hand? Turning a plumbing-adjacent closet into a water closet is an effective and inexpensive solution. And the best way to make the most of a very small bathroom space is to install wall mounted bathroom sinks.
Along with a wide selection of stylish wall-mount lavatory sinks, for any style and any taste, to fit the smallest of spaces, HomeThangs.com introduced a guide on how to get the most of that tiny half bath or water closet.
1. Wall mounted bathroom sinks are compact, fit right snug up against the wall while leaving plenty of foot room open so one can stand close while using it, and offer all the utility of a sink in a fraction of the space. For especially small spaces, wall mounted bathroom sinks like the 2011 Lavatory Sink from Scarabeo are even better. This baby is just big enough for a quick hand washing or tooth brushing, with the built in counter space for a bar of soap, tube of 'paste and a toothbrush holder.
2. Besides: in a water closet or half bath, one does not need all the stuff needed in a full sized bathroom, especially if it's attached to a master bath. If this space is meant purely to handle a bathroom overpopulation problem (rather than adding a full additional bathroom) one shouldn't need a place to stow makeup, hair care products, or any of the items normally associated with a full bathroom. Aside from the aforementioned tooth and hand washing items, plus maybe a spare roll of TP, one shouldn't need a lot of storage, so one could even opt for wall mounted bathroom sinks as small as the bitty Isabella Sink from Whitehaus.
3. For a little more storage something like the Whitehaus Isabella Sink With Shelf, which is from the same collection as the previous design, can work just as well in a water closet. It's a little bit wider and a little bit deeper, but the primary change is that it integrates a shelf, a two-sectioned towel rack, and even a little extra counter space. It's about the same width as an average bathroom vanity (though much shallower), but has just the bare-bones storage – a hand towel, wash cloth, and a spare, or a shelf of face soap, deodorant, hair spray, or whatever else one might need if caught in the half bath in the middle of the morning rush.
4. Just about the smallest wall mounted bathroom sinks available, though, are corner-mount ones like Ceramica CA4053 sink by Caracalla. Fitting neatly into the corner and lacking any but the most cursory "counter" space, wall mounted bathroom sinks like this one are pure distilled utility. Its positioning in the corner makes the space it takes up negligible at worst, allowing to get the full function of a half bathroom in the smallest amount of spare space.
5. Corner wall mounted bathroom sinks can be a little less utilitarian as well. The lovely Neptune Handbasin Sink from Herbeau is modeled with all the care and charm of an antique 19th century piece, including authentic French antique patterning that's hand painted on each and every basin. Much more delicate and beautifully designed, this sink can add a powder-room style charm to even the smallest space. Plus, the matching Towel Ring, Corner Shelf,Soap Dish, and Corner Mirror add both utility and even more old fashioned charm.
HomeThangs.com is not only a home improvement superstore, it also provides expert design tips and a comprehensive shopping guide, taking the ideas from professional interior designers, and offering tips to the consumers on how to pick the products to best suit their needs.