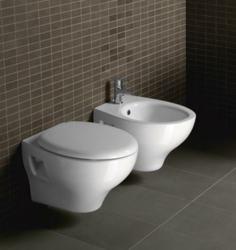 Wall mount toilets are more user-friendly than many think, and they're actually an excellent space saving option for a small bathroom.
(PRWEB) October 06, 2012
HomeThangs.com – the Home Improvement Super Store has made their goal to deliver the right product to the consumer, with that in mind, shopping and home design tips, as well as special product selections are being introduced.
Wall toilets are creeping into designer bathrooms all over the place. These are toilets with tanks installed directly into the wall, and bowls that don't touch the ground, suspended beautifully on the wall in a nice compact package. But many people believe these types of toilets are not for them – that they're difficult to install, difficult to maintain, and so on.
HomeThangs.com introduced a selection of wall toilets along with a tip sheet to dispel the common myths, - the truth is, wall toilets are more user-friendly than many think, and they're actually an excellent space saving option for a small bathroom.
1. Installation
There's a myth that there's something mystically difficult about installing a wall toilet, but in fact that just isn't the case. Installing a wall mounted toilet isn't a lot more complicated than installing any other toilet. The catch is, it really needs to be done either as part of a major remodel or in new construction. Unlike most toilets, which are installed at the very end of the process and can therefore be easily changed out, wall hung toilets, like the City Wall Toilet from GSI for example, have to be installed before the bathroom's drywall is finished, because the tank has to be built directly into the wall cavity between the studs, and the toilet bowl itself securely mounted to the wall for stability before the tank is walled in and painted or tiled over.
2. Easy To Maintain
Most people react to the idea of an in-wall tank with the immediate and fervent belief that such a tank would be impossible to maintain. Images of having to rip out their perfect tile wall every time the toilet starts running has them headed for the hills and unwilling to give wall toilets another thought. But the truth is, wall mounted toilets, like the Water Sense Pro Toilet from Laufen, for example, have to have flush mechanisms, and those push-button style mechanisms are built into large plates, which can easily be removed and serve as an access panel to the tank inside the wall – no demo needed if the toilet needs a repair. It might be a slightly more cramped workspace, but other than that, the maintenance is no more complicated than any other toilet.
3. Price Range
Wall toilets can be expensive, but as with any luxury item that's starting to become widely accepted, prices range all over the place. Some of priciest models peak in the just-over-$1k range, but one can also find equivalent wall toilets in the same couple-hundred-bucks range as a standard, high quality Water Sense toilet. So if price is the main prohibiting factor, there are many less-expensive models, like the S20 Toilet from Vitra, which clocks in at in the very reasonable $250 neighborhood.
4. Easy To Clean
One of the worst things about standard floor mount toilets is how difficult they are to clean and to clean around. There's always the space behind and around the toilet that's difficult to get to, the dust and gunk collecting bends and bumps on the base, and the nebulous area at the base of the toilet itself. Wall toilets, like the smooth, sleek, Moai Wall Toilet from Scarabeo, for example, eliminate all of these – because they don't touch the floor, it's easy to sweep or mop underneath them and all the way to the wall, and because the complex bendy plumbing is inside the wall, all that has to be cleaned on the toilet itself is a nice smooth curvy bowl, which is often finished with a hygienic, easy to clean glaze.
5. Adjustable Height
Because wall toilets are mounted directly to the wall, they offer the unique freedom to choose how high off the ground the toilet should be installed. This one might not seem super important for those who really like the standard 15 3/4″. But for someone very tall very tall, very small, or looking for a raised toilet for accessibility, this will be really convenient. In fact, there's a whole subset of wall mounted toilets that are ADA approved, like the Flushometer toilet by TOTO, for those with disabilities.
6. Water Saving and Dual Flush Features Are Standard
Low flow and dual flush toilets are finally starting to really catch on, but while it's still a maybe maybe not option for standard toilets, one would be hard pressed to find wall toilets without both. Something like the Aquia Dual Flush from Toto has a fairly standard 1.6GPF "big flush" and a 0.8 GPF "little flush," which can add up to tremendous water savings long term, let alone toilets that use even less.
7. Smart for Small Bathrooms
The biggest myth to dispel, is that wall toilets are only "for" big luxury bathrooms. The truth is, there's never been a smarter, more elegant solution for a small bathroom. There are a lot of frilly luxury items out there, things that might be nice to have, but that aren't really strictly necessary. But in a very small bathroom, wall toilets like the Sunrise Toilet by Vitra, is a definite must-have. In fact, they use the space inside the walls before using up floor space. The absence of the tank allows taking the toilet closer to the wall, both hugely opening up the floor space and often leaving a better horizontal clearance, too, so the toilet can be installed closer to other fixtures, like a bathroom vanity, without crowding it.
8. Weight Requirements
Wall toilets, like the Wish Toilet by Scarabeo, for example, have to be very firmly secured within the wall and blocked in, not only to support the weight of the toilet, but also to support the weight of anyone using it. Too much weight and the wall support might not be able to handle it, unlike regular toilets which have a sturdy porcelain base. So if the weight limit (usually around 250lbs) is a concern, one needs to make sure to keep an eye out for the weight limits of the specific toilets.
HomeThangs.com is not only a home improvement superstore, it also provides expert design tips and a comprehensive shopping guide, taking the ideas from professional interior designers, and offering tips to the consumers on how to pick the products to best suit their needs.