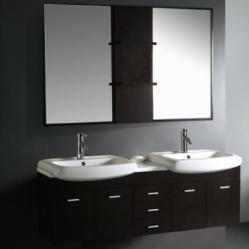 By their nature, modular double bathroom vanities, especially wall mounted ones, are a bit like building blocks. The components can always be installed just about anywhere.
(PRWEB) August 24, 2012
HomeThangs.com – the Home Improvement Super Store has made their goal to deliver the right product to the consumer, with that in mind, shopping and home design tips, as well as special product selections are being introduced.
HomeThangs.com has introduced a comprehensive guide to wall mounted double bathroom vanities to educate the consumers and suggest ways on how to customize and personalize the modern master bathroom.
Modern styled bathrooms have become increasingly popular in recent years, and are becoming ever more desirable when it comes to major bathroom remodels. But a modern bathroom isn't without its pitfalls – not the least of which that the simple, industrial palette and minimalistic, geometric lines of a modern decor can end up making for a rather boxy looking bathroom. Wall mounted bathroom vanities are a great way to help customize and personalize a modern bathroom – especially the double vanities in a master bath.
1. From the very get-go, wall mounted double bathroom vanities stand out as being a little different from the traditional cabinets for the simple reason that they're suspended off the ground. Even a relatively plain, rectangular vanity like Portland Vanity from Design Element for example, gains personality from the fact that it's floating. With a few slightly asymmetrical storage shelves mounted to the wall on both side, and it looks more like an installation piece than plain Jane cubist cabinet.
2. Wall mounted double bathroom vanities with interesting sinks are a good way to go, too. For example, the 59 Inch Double Vanity from Vigo Industries features the uniquely curved sinks that slightly overlap the edges of the vanity, giving it a slightly curvier look that can help soften all the harsh angles of a modern design.
3. Getting wall mounted double bathroom vanities in separate modules gives some more flexibility. The Dual Wall Mount Vanity Set from Bellaterra consists of two identical wall mounted vanities plus a pair of matching mirrors. These can be installed anywhere – close together, far apart, or even around the corner from one another, and at any height. That allows not only to accommodate an oddly shaped space, but also gives a little room to play with space in three dimensions – another great way to enhance a modern look and give the doldrums of the design the boot.
4. Bathroom vanities that come in modular sets are a great convenience to work with, like the Blox collection from Xylem. Modern design always works well with a modular setup. Modular wall mounted vanities offer the freedom to mix and match, and add creativity to a simple, geometric design. The 24 Inch Frosted Glass Vanity by Xylem, for example, resembles a single solid double vanity, but is actually composed of three vanities – two that are fronted with frosted glass, and a third that's used as a bridge between them for extra storage.
5. When it comes to modular sets, the sky really is the limit for the possible configurations of wall mounted bathroom vanities. The Blox set by Xylem alone contains four different styles of vanity units, each available in three sizes, plus a whole collection of matching accessories, shelves, and connecting pieces. They can be combined in just about any way – even forsaking double bathroom vanities for one that's just as wide, but uses all that space to brilliantly showcase a single beautiful vessel sink.
6. For a more compact, slightly frosty look, the Blox collection also offers hollowed out consoles. These slim, shallow units can be topped with icy blue frosted glass sink/counter units for a gorgeous, slightly see-through effect. This Console Set dismisses the ordinary white porcelain sink for something a little more interesting by making unique use of modern/industrial materials.
7. By their nature, modular double bathroom vanities, especially wall mounted ones, are a bit like building blocks. The components can always be installed just about anywhere.
8. In order to add a little more personality to a modern bathroom, the best way to do it is to actually design a double bathroom vanity. While custom built cabinets are nice, ones that are handpicked offer a great opportunity to create exactly the style wanted – and to maximize the functionality of the bath.
HomeThangs.com is not only a home improvement superstore, it also provides expert design tips and a comprehensive shopping guide, taking the ideas from professional interior designers, and offering tips to the consumers on how to pick the products to best suit their needs.