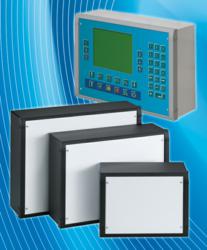 DATAMET's all-round access makes installation and servicing very easy and the three new black models will be particularly popular for use in heavier industrial applications.
Bridgeville, PA (PRWEB) April 10, 2013
METCASE has extended its DATAMET range of wall mounted enclosures with three new black models aimed at heavier industrial applications.
These stylish aluminum housings are designed for mounting indoor electronics to a wall or machine housing.
DATAMET'S unique four-part assembly allows all-round access to the electronics during installation and servicing.
Typical applications for the DATAMET electronic enclosures range include control units, measurement technology, medical equipment, safety and security systems, communication devices and machine controllers.
DATAMET instrument cases consist of an attractive diecast front bezel which locates on to the
fabricated aluminum case body and rear panel assembly.
The front bezel has a recessed aperture for mounting an anodized aluminum front panel.
Front panels are supplied as accessories and can be easily adapted for membrane keypads, display modules, push-buttons and rotary controls.
The rear panel includes mounting points for fixing the PCBs and for fitting the enclosure to a wall or machine. The underside of the case body can be used for cable glands or connectors.
DATAMET metal electronics enclosures are very easy to assemble. There are no visible fixing screws on the case body or rear panel.
Three standard sizes are offered: 9.84" x 7.09" x 4.57" (S), 13.78" x 9.84" x 4.57" (M) and 15.75" x 11.81" x 4.57" (L).
The new models are painted all black, RAL 9005. Existing models are painted in a combination of window gray, RAL 7040 (bezel) and light gray, RAL 7035 (case body). The paint finish is textured polyester.
METCASE Vice President, Sales, Sean Bailey said: "DATAMET's all-round access makes installation and servicing very easy and the three new black models will be particularly popular for use in heavier industrial applications."
On demand, METCASE can supply DATAMET as custom electronic enclosures with additional holes for push-buttons, connectors and displays plus silk screen printed legends and logos. The cases can also be made in non-standard sizes and painted in other colors. Prices start at $132.
Features of DATAMET equipment cases:

Very modern design in three standard sizes
Total access to the electronics from all sides during installation and servicing
Rear panel ('L' section) provides fixing holes for PCBs and mounting plates on the inside and cable glands and power inlets on the underside face
Pre-punched wall mounting points are also provided
Top panel ('U' section) fits over the rear panel and also secures the front bezel
Diecast front bezel provides a modern look to the cases and includes a recessed area for fitting the front panel
Four M4 earth studs provided inside
Two standard color combinations
All fixings supplied with case
Anodized front panels and mounting plate kit available as accessories
Material – Aluminum
Standard Colors – front bezel, window gray (RAL 7040); case body, light gray (RAL 7035); bezel and case body, black (RAL 9005), powder epoxy polyester paint
Contents – top panel, rear panel, front bezel, M4 x 16 mm (x4), M4 x 6 mm (x2), M3 x 8 mm (x4)
Accessories – front panel, mounting plate kit.
METCASE also manufactures seven desktop enclosure ranges and five 19" rack case ranges.
METCASE's aluminum rack cases are available in 1U, 2U and 3U sizes. They all conform to the DIN 41494 and IEC 291-1 international standards.
The 19" rack case ranges include:

COMBIMET – a new range with plain or ventilated top and base panels
VERSAMET (1U) – which feature unique comfort handles for easy removal and reinstallation
UNIMET – also with comfort handles plus rack mounting ears. The front panel (accessory) is recessed for the location of membrane keypads
INSTRUMET – available with ABS side handles or as a portable model with a tilt/swivel metal bail arm.
For more information about DATAMET wall mount enclosures, please view the METCASE website or contact Sean Bailey, Tel: 800-965-9872.
-Ends-
Notes For Editors
METCASE specializes in the design and manufacture of high quality aluminum enclosures for the electronics industry. The METCASE range has been designed to allow for modifications to be carried out with ease.
Special sizes and versions of the enclosures can be produced in batch quantities from as little as 10 units. This flexibility provides design engineers with an exceptional range of options for developing new products and variations.
METCASE is a division of the OKW Group.
OKW Enclosures, Inc
3000 Old Pond Road
Bridgeville, PA 15017
Phone: 412 220 9244
Fax: 412 220 9247