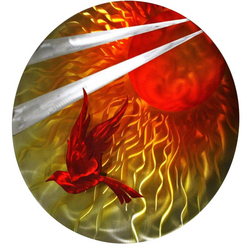 Our purpose in re-structuring the site
Seattle, WA (PRWEB) July 9, 2010
With a newly designed navigation menu on the left hand side of the page, customers can browse through an incredible selection of l arge metal wall art by type, style, shape and price range.
What makes the site even more exciting and easy to use is a navigation menu of wall art by color, making it easy for shoppers to find the perfect red metal wall art or silver metal wall art to coordinate with any decor. Shoppers can browse through any color category, from purple to silver, orange to green or rainbow. There are also more categories and subcategories than ever before: For example, click on "Metal Art by Type" and select from "Animals", "Flower & Floral", "Kitchen Metal Wall Art", "Candle Art" and four more categories. Then within these categories, you'll find subcategories: Such as in the Animal Category, where you'll find six subcategories, from butterflies and dragonflies to turtles, crabs, seabirds and more.
Metal-Wall-Art.com has also added an Exclusive Offers section that features over 100 of their most popular products as well as products under $50.00. The "Featured Wall Art" section includes Abstract, Large Metal Art and Modern Art as well as theme designed metal art categories, such as "Trees & Leaves" or "Musical & Entertainment". Without a doubt, Metal-Wall-Art.com offers something for every shopper and every taste, and they make it easy to find what you're looking for.
"Our purpose in re-structuring the site," said CEO Chris Thomas, "was to make the shopping experience as pleasant and frustration free as possible. So we added more categories and sub-groups to make it fast and easy to find exactly what you want. Whether a customer is looking for palm tree metal art or contemporary black metal wall art, they can quickly zero in on the kind of artwork that interests them." Thomas also added that shoppers like the wide range of categories because they suggest decorative ideas and inspiration that customers may not think of on their own.
From their better and easier to use navigation tools, to their huge high-quality and varied selection backed by an unbeatable 90-day No Hassle Money-Back Guarantee, Metal-Wall-Art.com seems to be all about customer satisfaction. For customers who need assistance or have questions, customer care specialists are available by phone or email. Take some time to explore the newly revamped Metal-Wall-Art.com and come away with a whole new perspective on the joys of online home decor shopping.
For more information, contact Reneta Vasileva toll-free at (888) 236-8018. To see the company's outstanding collection of metal art, visit the online store at Metal-Wall-Art.com.
###