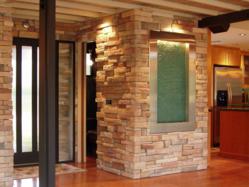 Studies have shown that keeping your working and living space at the proper humidity level can reduce the effects of contaminants in the air.
St. Louis, Missouri (PRWEB) January 17, 2012
Humidifall LLC, leader in water wall humidification and IAQ solutions for the residential, commercial, and industrial markets, is announcing partnership with the Asthma and Allergy Foundation, St. Louis Chapter to bring cognizance to allergy sufferers of how 40% relative humidity and cleaning indoor air can improve their health and comfort. For every waterfall humidity system that is purchased through the recommendation of an AAFA member or doctor, Humidifall has agreed to donate $250 to the St. Louis chapter.
Allergists and ENT doctors recommend indoor environments that are around 40% relative humidity to reduce the risk of bacteria, viruses, and asthma-related allergens. Humidifall in wall waterfall systems not only improve indoor air quality by maintaining optimal humidity, but also capture airborne particles such as mold, pollen, and dust, which are automatically filtered, sterilized and flushed out of a self-cleaning reservoir.
"Studies have shown that keeping your working and living space at the proper humidity level can reduce the effects of contaminants in the air," said Melissa Reed, marketing manager for Humidifall. "We know this, the AAFA knows this, and experts in the field know this. But unfortunately, many of those in the general public who suffer from seasonal allergies are unaware of how humidity levels can affect the way they feel. In fact, most of our customers didn't know how great they could feel until they actually felt the benefits of having a Humidifall in their home."
The benefits of home humidification are the reason for the partnership between Humidifall and the St. Louis Chapter of the Asthma and Allergy Foundation. During this partnership, any time an AAFA member recommends Humidifall to a patient or friend because of the improved indoor air quality benefits of Humidifall, the indoor waterfall company will donate $250 of the sale back to the AAFA to help with continued outreach and research to help local sufferers of allergies and asthma.
"We are so excited to have joined with the local AAFA in creating the sponsorship program. We are in the process of planning some events with them at which local doctors and chapter members can get involved. Eventually, we hope to reach other AAFA chapters and do the same," said Reed.
About Humidifall
Founded in 1998, Humidifall LLC is a privately held company that is the energy efficiency leader in the humidification industry, supplying its in-wall, transparent and custom water wall solutions to improve indoor air quality throughout the world. Humidifall's in wall waterfalls and custom waterfalls are designed to humidify the air while removing airborne contaminants such as allergens, mold, dust, pathogens and other airborne particles. The waterfall system is self-cleaning and low maintenance. For more information about Humidifall please visit http://www.humidifall.com.
###