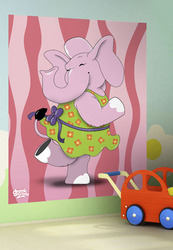 Boston, MA (PRWEB) July 29, 2009
Greenie2Steps, the creation of three Boston female design professionals, has released an original collection of whimsical wall art that is both educational and eco-friendly. The peel-and-stick prints depict the adventures of Greenie, the eco-friendly elephant who travels the world-teaching children of all ages how to make our planet a better place to live. Starting July 29, 2009, the first prints of Greenie and her friends are available at http://www.greenie2steps.com.
The original Greenie2Steps whimsical wall art collection is fun and safe for infants, toddlers and children of all ages. Made in the USA with eco-friendly materials, the wall art can be removed and relocated hundreds of times without marring the walls or leaving any residue.
The new Greenie2Steps whimsical wall art collection includes oversized prints of Greenie and her best friends: Garrett her brother, Geraldine the Giraffe, Lenny the Lion and Taj the Tiger. Big (18" x 24" - $54.00), Huge (24" x 36" - $79.00) and Jumbo (36" x 48" - $149.00) print sizes are available. For a limited time only, Jumbo print purchases will come with a free 8 ½" x 11" oversized peel-and-stick postcard from TelleyGreen, Greenie's eco-friendly island home. The first in the series of Greenie2Steps postcards can also be purchased separately ($9.00), personalized if desired ($14.00). Full-sized, interactive, peel-and-stick wall murals of Greenie's adventures are coming soon, with special orders available for any size.
Greenie2Steps, LLC was founded in 2009 by three Boston-based women. Interior Designer Nancy Serafini, Artist Joanne Coughlin and Marketing Professional Cynthia Laidlaw share a dedication to promoting eco-friendly lifestyles with whimsical wall art designed to delight, engage and educate children of all ages.
###