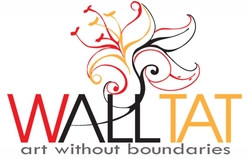 We have had a great response to our wall decal products with our online campaigns, and it is now time to make WALLTAT a household name
Chicago, IL (PRWEB) February 26, 2009
Online retailer of wall decals and wall stickers, Wall Decal by WALLTAT, just launched a TV advertising campaign to showcase its latest wall decal collection. WALLTAT was founded in May of 2008 by Chicago based interior designer, Jordan Guide (Chicago Interior Designer Jordan Guide) to provide an alternative for wall art and wall décor. "(The TV Campaign) was the quickest way that we could let everyone see our great product," says Mrs. Guide. "We have had a great response to our wall decal products with our online campaigns, and it is now time to make WALLTAT a household name," she added, having trademarked the name WALLTAT last fall.
There is a certain ring to the trademark WALLTAT that can quickly be genericized, and become synonymous with artistic wall decals. The founder jokingly shared with us her Webster dictionary entry, ready for publishing:
"walltat (wahl-tat) n. 1. artistic wall decals for walls and other smooth surfaces. v. 1. the act of applying a walltat on a wall or other smooth surface. "
With so many companies out there making smaller wall decals, and accent pieces, WALLTAT is differentiating itself by adding to the offering full wall scale designs to visually transform an interior environment. "Our designs are more than just stickers, they are visual landscapes that challenge the boundaries of the interior," says the interior designer.
The latest collection by WALLTAT features wall decal designs in a variety of themes including:

Nature
Scenery
Pop Culture
Scenery
Music
Kids Wall Decals
Kids Wall Stickers
Sports
Animals
Faces
Baroque
Vehicles
Reflective (Mirror finish)
Glass Applications (Etched Glass Look)
To see more of WALLTAT and all available designs, visit http://www.walltat.com or call 888-WALLTAT.
###