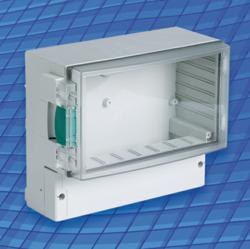 Type S enclosures have given their users great service and now WALLTEC makes it easy to upgrade to more weatherproof enclosures.
Bridgeville, PA (PRWEB) July 25, 2011
OKW has launched its tough new WALLTEC wall mount enclosures, replacing the previous TYPE S series with a more modern and robust design rated to the higher protection class of IP65 similar to NEMA 4.
Typical applications for the new WALLTEC enclosures will include controller units for heating, air conditioning and lighting, flow meters, process controls, timers, monitoring equipment and security systems.
Two standard types of WALLTEC plastic enclosures are available:

Type I housings have an open front section for fitting an aluminum front panel or a recessed cover. They are molded as ABS enclosures (UL 94 HB) for regular applications.
Type II housings are fitted with a transparent hinged front cover with quick-action lock. They are molded in polycarbonate (UL 94 5V) – this high flame class rating is ideal for industrial applications. The material is also highly resistant to UV radiation which makes it more suitable for permanent use outdoors.
WALLTEC waterproof enclosures are available in six basic sizes with external dimensions from 6.53" x 6.29" x 3.14" to 15.07" x 12.44" x 5.27". These sizes are similar to the previous TYPE S range, so switchover should be very easy.
All models have a separate terminal compartment with removable lid for independent access to the cables and terminals during installation and servicing. The main internal area has guide grooves and screw bosses for fitting PCBs, mounting plates and assemblies.
Both types can be fitted with an accessory anodized aluminum front panel for mounting the controls and displays. Type I housings can also be fitted with an attractive molded ABS cover which has a recessed area for mounting a membrane keypad or a product label.
A three-point mounting system is molded into the rear part of the WALLTEC enclosures. This makes it very easy to mount these electronic enclosures to a wall or machine housing. Accessory external mounting brackets are also available for mounting sealed units. Prices for the enclosures start at $47.
Other accessories include an internal mounting plate for the electronic assemblies, a DIN Rail mounting kit for the whole enclosure and security screws for the transparent cover.
OKW can supply WALLTEC enclosures with additional holes for keypads, connectors, controls and displays, plus RFI shielding and silk-screen printed legends and logos.
OKW Enclosures, Inc, Vice President, Sales, Sean Bailey said: "Type S enclosures have given their users great service and now WALLTEC makes it easy to upgrade to more weatherproof enclosures."
Features of WALLTEC IP65 enclosures:

Modern and tough wall mount enclosures for industrial electronics
Replaces previous Type S cases
Molded in ABS (UL 94 HB) or high flame class and UV rated polycarbonate (UL 94 5V)
Separate terminal compartment for connections
With or without hinged transparent cover
Transparent cover with quick action lock, left or right hand hinged, can also be screw fixed
Aluminum front panel for both versions
Recessed front lid for membrane keypads, displays, controls or product labels
Three-point wall mounting system
Enclosure can be mounted while closed using optional wall mounting brackets
Enclosure can also be DIN Rail mounted
Internal screw pillars for mounting PCBs
Pre-molded openings for security tags
Standard color: Light gray, RAL 7035
Accessories: Polycarbonate front lid, aluminum front panels, steel mounting plate, external wall mounting brackets, DIN Rail mounting kit, cable glands, fixing screws for transparent cover.
The WALLTEC series is part of a wide range of IP rated enclosures manufactured by OKW.
For more information, view the OKW website or contact OKW Enclosures, Inc, Vice President, Sales, Sean Bailey, Tel: 800-965-9872.
Notes for Editors
OKW ENCLOSURES, INC.
Abele Business Park
3000 Old Pond Road
Bridgeville
PA 15017
USA
Tel. 800 965 9872
Tel. 412 220 9244
Fax. 412 220 9247
###