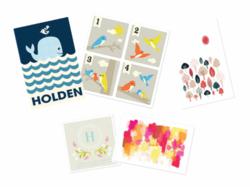 The diversity and quality among the designs chosen by our guest judges really reflects the depth of talent of the Minted design community.
San Francisco, CA (PRWEB) February 25, 2012
Minted (http://www.minted.com), the global design community and e-commerce site, today announces the guest judges' awards from their first-ever Art Print Challenge. All the designs chosen by the well-known décor experts will receive cash prizes of $500. Between the prizes awarded for top-rated works, as voted by the Minted community, and the guest judges' awards, over $15,000 in prizes has been awarded.
"This is an exciting new vertical for us and we were nothing short of impressed by the beautiful work submitted by our community. The diversity and quality among the designs chosen by our guest judges really reflects the depth of talent of the Minted design community," said Minted CEO and founder Mariam Naficy. "We are very thankful to our esteemed guest judges for their keen eye and insight and we applaud the winning designers for their brilliant creations, which we know consumers will be thrilled to purchase on both One Kings Lane and Minted."
One Kings Lane co-founder and chief partnership officer Alison Pincus has chosen Ocean Whale by Colorado-based Creaform Design (top left), Bird Count by Portland-based Tara Lilly Studio (top center) and Friendly Forest by Atlanta-based Wondercloud Design (top right) for her awards.
One Kings Lane – the leading private flash sales site in the home market – will feature and sell these three pieces exclusively during a special sales event this year. Following the 72-hour sales event on One Kings Lane, the three prints will then be sold on Minted.com along with the rest of the winning prints.
"One Kings Lane is passionate about giving our members access to the work of both renowned and emerging designers & artists," said Pincus. "I'm always enthusiastic to support the work of talented artists, and look forward to providing One Kings Lane members the first chance to buy these unique and original pieces from up and coming Minted designers."
The other esteemed judges included Mary Jo Bowling, Editor-in-Chief of California Home and Design, and Christina Brian, the founder of the blog Full House. Mary Jo Bowling chose Initial Wreath by Ohio-based Kristie Kern (bottom left). Christina Brian chose Highway Wildflowers by Atlanta-based Kelli Hall (bottom right).
In addition to their cash prize of $500 and ongoing commissions, the designers will also receive a print of their design.
About Minted's Design Challenges:
Minted's mission is to allow consumers to discover design genius from all over the world, providing an opportunity for designers to build their careers on merit alone. Minted holds monthly design challenges to source designs from a large global community of designers. The Minted community selects the best designs in a highly competitive and meritocratic process, yielding a top selection of the freshest, finest cards in the world.
About Minted:
Minted is a venture-backed design community and online store, crowd-sourcing graphic designs and content from a global design community and selling those as premium printed paper products initially focused on the $10 billion stationery, invitations, and cards market.
Minted has radically transformed what consumers now expect in wedding invitations, save the dates, birth announcements, holiday cards, business cards, and other personal stationery. The company's paper and printing is of the highest quality and it leads the market with the freshest designs, newest formats and most coveted details.
###