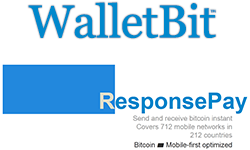 Send and receive bitcoin instantly. Whether you're selling in brick-and-mortar stores or online, WalletBit helps you.
BRH, Copenhagen (PRWEB) July 15, 2012
Today we have some exciting news to share in regards to mobile and payment processing. We're announcing a couple of products; WalletBit and ResponsePay.
ResponsePay is a lightweight mobile bitcoin payment solution that provides people with a simple yet very effective method of sending bitcoin locally and internationally. ResponsePay can reach almost all mobile phones, and did we mention it is instant? — no more waiting for the blockchain to update!
ResponsePay is built with responsive & adaptive web design so will look simply gorgeous on any device and will scale to fit. Today we are announcing our first steps in making our vision of mobile bitcoins a reality. It's important to realize we are just getting started and this is only the beginning of our path to fruition.
Mobile payments are poised to grow from $170 billion in 2010 to $630 billion by 2014 — Mobile Bitcoin payments will be playing its role in this.
With this new mobile interface for bitcoin we are taking another small step towards making bitcoin worldwide known and accessible for millions of smartphone users. You are able to send bitcoin to just about anyone in the world via email or sms — we cover 712 SMS networks in 212 countries. So even if the recipient has little or no knowledge about bitcoin, they can easily claim with redeem codes. As a consumer you can give your phone permission to know where you are in order to receive offers, discounts and rewards based on your location.
ResponsePay is a web application (or "webapp") and therefore not a native application for iPhone or Android for the sole reason that we wanted to provide people with something that could not; suddenly be removed from any app store.
So how are we going to deliver this vision? As we mentioned earlier we had two announcements, ResponsePay and WalletBit. Let's continue with WalletBit.
WalletBit - Merchant Solutions and Bitcoin Wallet
On the merchant side, imagine you can acquire new customers in ways never before possible. Providing notification popups to the consumer with their permission for offers, discounts and rewards based on their location.
One of our key features is enabling customers to pay for merchandise directly, without leaving the merchant website.
Businesses across many industries are rapidly beginning to accept bitcoin, but one thing most seek is not there and thus we would like to welcome you to our subscription based payment system. Are you ready to build long-term relationships with customers, increase retention, and create recurring predictable revenue streams? WalletBit offers a world first bitcoin implementation for the integration of a subscription billing and payment system.
In-Store
WalletBit on hardware will for some users be easier to use than the solutions already existing today. Use your bitcoins in any store supporting payments by WalletBit.
Online
Integrate WalletBit as a payment gateway; there are several modules for the most popular e-commerce platforms. Combine WalletBit with your software for quick and secure payments, and experience on-site payment by bitcoin.
On the go
We have developed a better mobile bitcoin wallet. Save time and bitcoins, shop with WalletBit Mobile — a simple online mobile wallet.
What is Bitcoin? — A new electronic cash system that uses a peer-to-peer network to prevent double-spending. It's completely decentralized with no server or trusted parties.
About WalletBit
Copenhagen based WalletBit and subsidiary ResponsePay is the world forerunner for "bitcoin only" payment processing and offers a simple, flexible and secure wallet with the tools you need to sell goods and services easily for bitcoin, including ultimate anti-fraud protection. WalletBit provides, by far the best anti-fraud protection any business can get. WalletBit was founded in July 2011 and is based in Denmark, with an office in Copenhagen.