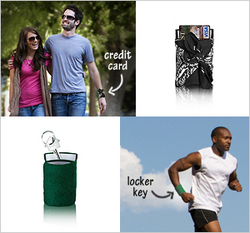 San Francisco, CA (PRWEB) May 19, 2010
Rogiu, LLC today unveiled a men's line of wallets2wear, the revolutionary new line of wearable wallets. These innovative wallets are small enough to be worn on the wrist, but large enough to carry a man's credit card, ID, cash and key. They are convenient, clever and comfortable.
Avoiding a bulge in the back pocket is not only an issue of comfort and looks in situations like nightclubbing or attending concerts and festivals, but it is safer against pickpockets and even good for one's health. "Regularly sitting on a wallet in one's back pocket can cause the sciatic nerve to get pinched," states Dr. Evaleen Jones, Associate Clinical Professor at Stanford University School of Medicine, "and wallets2wear offer a very sensible alternative."
In addition to the health issue posed by wearing a traditional wallet in the back pocket, there are numerous occasions where a wallet alternative is highly advantageous. Athletic men will be the first to admit that there are few places in athletic clothing to even place a locker key. "Paring-down your wallet to a key and ID and wearing it on your wrist is great for workouts: it keeps you light, it frees your mind from worrying about an uncomfortable place you put a key, and it allows you to focus on your fitness routine instead," Jim White, President and Founder of Jim White Fitness & Nutrition Studios.
Rogiu's patent-pending wallets2wear designs offer men both freedom and style. They are available in sporty sweatband models as well as Velcro™-closing models that have the chic look of a wrist-bandana. Rogiu plans to release watch models soon as well.
WHERE TO BUY: Available exclusively at http://www.wallets2wear.com/mens
About Rogiu, LLC
Rogiu, LLC is an innovator in wrist-worn accessories. Designed by entrepreneur Julia Machotka, the wallets2wear mens line offers a sensible and attractive alternative to wallets, while affording women the opportunity to carry their essentials in an attractive alternative to a purse. Learn more about Rogiu and wallets2wear at http://www.wallets2wear.com.
Note: wallets2wear is a registered trademark of Rogiu, LLC. All other registered and unregistered trademarks herein are the sole property of their respective owners. Copyright © 2010 Rogiu, LLC. All rights reserved. Patent pending.
###