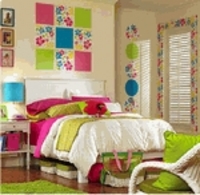 Sandusky, OH (PRWEB) September 18, 2008
USA Wallpaper announced that it has included Wall POPS, a relatively new yet increasingly popular brand of wall appliqués, as its newest product for distribution. When it comes to wall decoration and home remodeling, Wall POPS offers customers a new alternative to paint and home wallpaper.
Wall POPS are decorative wall stickers of various designs and sizes. It has a unique "peel and stick" application for its wall appliqués that allows for copious amounts of creativity and personalized customization. Unlike traditional home wallpaper, Wall POPS can be removed as easily as they are installed, leaving no residue or damage to a wall's surface. Wall POPS can be reused even after it has been peeled from the wall. Even if the wall sticker is repositioned multiple times, it does not lose its adhesive strength. Moreover, it does not require the usual wallpaper tools and chemicals, which makes its cheaper and easier to use.
Wall POPS are made of vinyl peel and stick material that is long-lasting and washable. The fun and funky wall appliqués come in 13 solid colors, 4 mixed patterns in different shades (stripe, flowers, dots and geometric patterns), and 3 shapes (flower, circle and heart). The wall appliqués' available sizes are 13" for Dots (circle shaped), 13" for Blox (square shaped), and 6 1/2" x 16' for Stripes (rectangular shaped). The cheery, colorful stickers come in packs of five, except for the die-cut, shaped ones, "Heart of Hearts," "Poppies," and "Hooplah" which are available in packs of 4.
Wall appliqués can transform a dull and gloomy wall into an instant work of art. Customizable wall stickers inspire ingenuity with its flexibility, giving one the freedom to create their own wall designs -- mix and match shapes, colors and patterns, and even cut the shapes out of the die-cut templates.
Decorative wall stickers aren't just for walls too; they can also be applied to furniture and other ideal surfaces, or used for craft projects, party decorations and other creative ideas.
About USA Wallpaper:
USA Wallpaper is a distributor of brand wallpapers and borders, plus home embellishments, bed, bath and kitchen accessories, children's décor, framed artwork, and other home improvement items. Wall POPS wall appliqués can now be purchased from USA Wallpaper http://www.usawallpaper.com/wallpops.html.
About Wall POPS:
The latest in wallpaper art, Wall POPS are "peel and stick" wall appliqués that come in a variety of shapes, sizes, colors and patterns. It is manufactured by Brewster Wallcovering Company. More information regarding Wall POPS can be accessed in their official website, http://www.wall-pops.com.
###