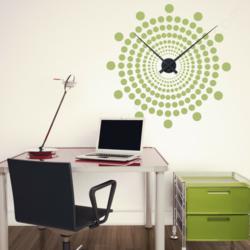 The way we run our company and the products that we make are really a perfect match for today's eco-minded college students looking for stylish decor options that can be customized to their personal style.
Nashville, TN (PRWEB) August 28, 2012
Walls Need Love is pleased to announce a new line of vinyl wall art and wall decals designed specifically for college students. As the new school year gets underway and college students arrive back at the dorm for the first time this year, self-expression is priority for most students. Since temporary wall art is a practical and affordable option for both new and returning college students, the new Walls Need Love product line focused on college students is already performing exceptionally well.
One reason for the wide-spread appeal of vinyl wall decals is the fact that college students tend to change their minds. With temporary wall art, students can change their mind without leaving a mess behind. Although vinyl wall decals were originally used for sign making and later became a popular choice for window decorations that could be easily repositioned and removed, they have been widely-adopted for indoor use by interior decorators. Another perk of vinyl wall art for college students is the fact that they are relatively inexpensive and come in a variety of design and style options.
Walls Need Love allows customers to customize wall text and add monograms and other features to a wall decal. Decals offer a practical way for students to freely display wall art without literally leaving their mark behind. Dry erase decals are among the college-friendly designs offered by Walls Need Love. These decals can be used to write messages such as a reminder of an upcoming test or a Friday night dinner date. Dry erase dot decals and an Etch & Sketch chalkboard decal serve similar purposes and reflect the company's assertion that decals can be decorative and functional at the same time.
Ali Abrahimia, the owner of Walls Need Love, echoes the appeal of his company's product to college students, stating that "younger people tend to gravitate towards something that is decorative and convenient." Adding to the appeal of decals marketed to new and returning college students is the fact that designs appeal to both guys and girls. This is especially true when customized designs are factored into the equation.
The functionality and style of decals has improved, even compared to those available a decade ago. Vinyl decals are also more durable, which matches current "green" trends among this age group. Since more college students are environmentally conscious, design options that produce a smaller carbon footprint are attractive from both the aesthetic and environmental perspective. According to the National Center for Education Statistics, there are over 2 million freshmen college students each year. The environmental impact of college students choosing sustainable designs with minimal environmental impact is great.
Since college students are oftentimes trying to define their personalities, the custom text and monogram wall decals are especially popular among college students. However, the top performers include decals that are targeted specifically towards college students such as Greek letters, eclectic designs, and word definition decals. These types of designs have a youthful appeal that accentuates the underlying vibes of a college dorm.
In addition to offering consumers innovative interior design products, Walls Need Love currently donates a percentage of all sales to preserving the environment through tree-planting efforts. Walls Need Love is also proud to be part of the "Made in the U.S.A." trend since all products sold by the company are made in Nashville. Mr. Abrahimia, the owner and founder of the company, sums it up by adding that "the way we run our company and the products that we make are really a perfect match for today's eco-minded college students looking for stylish decor options that can be customized to their personal style."