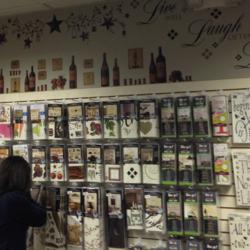 People have such great reactions when they see what they can do with removable wall stickers. Especially the kids, who practically drag their parents into the store!
Lake Grove, NY (PRWEB) October 07, 2012
Wall Sticker Outlet proudly announces the opening of its latest retail store in the Smith Haven Mall! Located near the Macy's entrance, this super-sized shop offers the latest in removable wall art and peel and stick decals for both children's decorating and home wall decor.
"We're thrilled to finally be in Smith Haven!" says Katelyn Thompson, Director of Customer Relations. "People have such great reactions when they see what they can do with removable wall stickers. Especially the kids, who practically drag their parents into the store!"
On the heels of their success in the the Tanger Outlets of Riverhead, Wall Sticker Outlet's latest retail location comes just in time for the holiday season. The store stocks hundreds of boys wall stickers and girls wall decals, in all types of today's most popular decorating themes. It also contains peel-and-stick wall art for home use, with a huge array of decals perfect for living rooms, kitchens, and bedrooms too.
"We've more than doubled the amount of holiday decals this year," Thompson adds. "Kids love the build-your-own skeleton for Halloween, plus there's an amazing amount of fall and holiday sticker options for Thanksgiving, Christmas, and more."
Wall Sticker Outlet's retail locations have been built upon the success of their massive website, which now carries more than 7,000 wall decorating options. Most of these utilize the latest in peel and stick technology, meaning the decals are simply peeled off their backing and smoothed right onto any flat wall. Fully removable and repositionable, peel-and-stick decals leave no damage or residue, making them perfectly safe for apartments and dorm rooms as well as home decorating.
The store itself is quartered into decorating themes. Boys and girls products include princess decals, outer space stickers, and themes such as sports, dinosaurs, racing, construction, under-the-sea, pirates, animal, and jungle/safari, to name only a few. Also included are children's favorites from movies and television: Disney princesses, Cars the Movie, Hello Kitty, Toy Story, Finding Nemo, Super Mario, and just about any DC or Marvel superhero imaginable, including the very popular line of Avengers wall decals.
For younger children decorating choices include a full line of Sesame street room decor, Winnie the Pooh, Dora the Explorer, Diego, Bob the Builder, Jake and the Netherland Pirates, and Spongebob Squarepants. Another section of the store is dedicated to decorating the walls of a baby's nursery, with soft, adorable decals for boy or girl.
"Personalized wall decals are also popular right now," says Thompson. "Parents can order stickers customized with their child's own name, including monogrammed wall art. These orders are placed right at the store and can be sent to the customer's home with free shipping at no additional cost."
For adults, an entire section of the shop is dedicated to wall decals for home decor. Designed for living rooms, kitchens, bedrooms and baths, these decorating choices include wall words, phrases, sayings, and a huge selection of delicate wall trees that can bring new life to just about any room in the house.
Smith Haven Mall shoppers are invited to check out the Wall Sticker Outlet and help celebrate the store's launch, which will be accompanied by weekend and Black Friday sales events throughout the holidays. Non-locals can visit the store's website at http://www.wallstickeroutlet.com where all orders within the continental US always come with free shipping!