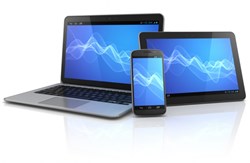 Many people who did not buy a tablet or PC earlier this year in hopes of saving money during the holiday should benefit from the published discount prices we've added online
Hartford, Connecticut (PRWEB) November 24, 2013
Computer systems are not dead yet, according to many retail sources like Walmart that are expecting a solid sales season. The Cherry News company has now listed its Black Friday Walmart 2013 computer discounts for the public online. These discounts are presented at http://cherrynews.com/black-friday and represent the first round of holiday sales updates for consumers.
Tablets are increasing in demand partly due to the success of the iPad and Kindle in 2012. New lower priced tablets that feature Android operating systems are now expected to compete with the higher priced units offered by Apple and other retailers. The Walmart computer discounts published at the Cherry News website features tablets, laptops and desktop PCs.
Walmart has announced an early pre-sale for its Black Friday shopping season. A new program for presenting discounts is now part of the marketing strategy of this retailer. Placing top items on sale early is expected to boost sales and the Cherry News company is scheduled to follow the price drops announced.
"Many people who did not buy a tablet or PC earlier this year in hopes of saving money during the holiday should benefit from the published discount prices we've added online," said a reporter at the CherryNews.com company.
The online deals sales flyer that is now presented for Walmart at the Cherry News company website is the first in a new series of retailer specific price guides online. Target, eBay and other retailers are now scheduled for inclusion to help guide consumers to the best pricing of the year in 2013.
"Aside from computer discount pricing, accessories are expected to be heavily discounted during the week-long Walmart discount program now announced," the reporter confirmed.
The Cherry News company is now working closely with its group of researchers and company reporters to help publish information as it is released by retailers to the public. The timely delivery of information as well as uncovering unpublished discounts is a top priority through the Christmas season.
The resources this company is now using to locate shipping promotions and price drops online are expected to help create the company sales flyers that are being distributed online.
About CherryNews.com
The CherryNews.com company supports the public by generating lists and other guides that contain discounted products and services retailers are providing online. The media resources this company provides helps to extend the reach of the company supplied content throughout the U.S. The CherryNews.com website contains links to retailers and other sources online designed to present easy ways that consumers can depend upon to find discounted products each day. The company reporters and other staff continues to update content online and provide curation to existing articles posted.