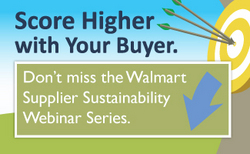 Boulder, CO (Vocus) June 16, 2010
Renewable Choice Energy announced today that it will partner with industry leaders Packaging Knowledge Group (PKG) and Cleargreen Advisors to expand its free educational resources for Walmart retail suppliers concerned with meeting expectations set forth by Walmart in the Supplier Sustainability Assessment.
Renewable Choice Energy will launch the new educational series How to Score Higher with Your Buyer on June 29, 2010 with the webinar The Packaging Scorecard: Unwrapped presented in partnership with Packaging Knowledge Group, a leader in retail packaging production and sustainability, and longtime advisor to Walmart suppliers complying with the retailer's Packaging Scorecard. The presentation will be led by June Anderson, Packaging Knowledge Group Partner, and Renewable Choice Senior Product Manager, Matt Wood, one of the nation's first Certified Greenhouse Gas Inventory Quantifier.
The free supply chain sustainability webinar series will continue on July 14, 2010 with Walmart Supplier Sustainability: Unplugged, an in-depth look at the Walmart Sustainability Index and Supplier Assessment. Attendees will learn about Walmart's motivations behind the Index and Assessment, and better understand how they affect their businesses now and in the future. The presentation will be co-presented by Cleargreen Advisors founders Catherine Greener and Marc Major, and Renewable Choice Senior Product Manager, Matt Wood.
The third installment in the series is Energy & Climate Strategy: Uncomplicated co-presented by Matt Wood and Susan Gregory for Renewable Choice on July 21, 2010. The presentation will guide attendees through the most complicated and critical section of the Walmart Supplier Sustainability Assessment, Energy & Climate, cover the why's and how's of carbon accounting and disclosure, and energy audits, and show suppliers how to uncover valuable cost savings to improve performance while meeting and exceeding Walmart's expectations.
Walmart Supplier Sustainability Webinar series details:
The Packaging Scorecard: Unwrapped
June 29, 2010 :: 1 pm EST
Walmart Supplier Sustainability: Unplugged
July 14, 2010 :: 1 pm EST
Energy & Climate Strategy: Uncomplicated
July 21, 2010 :: 1 pm EST
All webinars in this series are free and include a live Q&A to help you address your unique business needs.
About Renewable Choice Energy
Renewable Choice Energy is a leading provider of retail supplier sustainability compliance services and environmental commodities to hundreds of Fortune 500 companies and small businesses. Founded in 2001, Boulder-Colo.-based Renewable Choice and its clients have received prestigious awards from the EPA and DOE for their sustainability initiatives and have been featured in hundreds of media outlets including The New York Times, Wall Street Journal, CNN, USA TODAY, and more.
About Packaging Knowledge Group LLC
Packaging Knowledge Group is a full-service consultancy offering a variety of custom solutions in the packaging arena as well as in sustainable supply chain practices. The principals and associates of the Packaging Knowledge Group are knowledgeable, experienced and proven leaders in the field of packaging and related disciplines. They have helped a variety of companies achieve their packaging production and sustainability goals by providing innovative, technically sound packaging expertise. In addition, they are able to seamlessly integrate sustainable packaging and other practices into existing supply chain operations.
About Cleargreen Advisors
Cleargreen Advisors has extensive experience helping customers understand sustainability and how to integrate it into business operations to save costs and generate business value. Cleargreen Advisors has worked with a diverse group of large and small companies, including Walmart executives and merchants, Walmart suppliers, and manufacturers to define and operationalize their sustainability strategies.
###