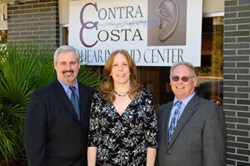 I only wish that we had had the opportunity to come to you years ago.
Walnut Creek, CA (PRWEB) April 28, 2013
Contra Costa Hearing Aid Center created a new website to give its clients hearing aids in Walnut Creek CA. The website now includes information on hearing loss causes, hearing aid evaluations and fittings, and hearing aid prices. It also helps set realistic expectations for patients about digital hearing aid technology. East Bay residents can browse the types of hearing aids that Contra Costa Hearing Aid Center offers, and learn the differences between each type of hearing aid. The accompanying Facebook page provides a place for local residents to connect and ask questions about hearing aids in Walnut Creek CA.
Contra Costa Hearing Aid Center understands that ongoing counseling, periodic adjustments and regular hearing aid cleanings are vital to continued satisfaction. The staff are invested in better hearing and they are committed to being at the office to support every need. The new website is one way that the company can give its customers the best and fastest information on hearing advancement.
About Toby Hill, BC-HIS
Toby Hill is the owner of Contra Costa Hearing Aid Center and is Board Certified in Hearing Instrument Sciences. Before opening his own practice, Toby was a partner in another hearing aid practice and worked in hearing aid manufacturing. He entered the hearing aid manufacturing industry after 10 years in computer technology, apply what he learned to the delicate electronics and sophisticated programs of modern digital hearing aids. After becoming a hearing aid technology expert, Toby left manufacturing to work directly with patients. He greatly enjoys patient care and helping his patients hear better.
About Contra Costa Hearing Aid Center
Contra Costa Hearing Aid Center takes a consultative approach to hearing health care with an emphasis on patient education. In addition to providing hearing tests and fitting hearing aids, the staff provides support, counseling , advice and rehabilitation. Contra Costa Hearing Aid Center is concerned about the patient as a person and will match their amplification needs, lifestyle, and budget with the hearing instrument best suited for them. The goal at Contra Costa Hearing Aid Center is to provide patients the best possible, individualized hearing care. Contra Costa Hearing Aid Center has offices in downtown Walnut Creek and in Brentwood CA.
Contact:
Toby Hill, BC- HIS
http://www.contracostahearing.com
Contra Costa Hearing Aid Center
1196 Boulevard Way, Ste 1
Walnut Creek, CA 94595
(925) 203-9134
Contra Costa Hearing Aid Center
1240 Central Blvd. Ste A2
Brentwood, CA 94513
(925) 203-9144