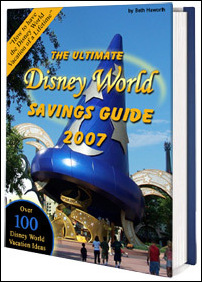 Year of a Thousand Dreams Celebration
Orlando, FL (PRWEB) December 8, 2006
New Disney World Savings Guide for the 2007 Season Shows Vacationers How To Have An Extravagant Disney Vacation At A Fraction Of Retail Cost.
Is it possible to save hundreds -- even thousands -- of dollars off the retail cost of a Disney World vacation?
"The Ultimate Disney World Savings Guide," a book by former Disney Cast member Beth Haworth, reveals exactly how.
"You can have a Disney World vacation every bit as enjoyable and rewarding as the family
who spends 2, 3, or even 4 times as much money," says Haworth. "The Ultimate Disney World
Savings Guide is everything I've learned and discovered in making a Disney Vacation an
affordable and magical experience."
Learn Haworth's tips, tricks, and secrets of how to fit a memorable Disney World Vacation
into an ordinary vacation budget, and share the tips with family and friends. "The
Ultimate Disney World Savings Guide" includes all new updated sections for the 2007 season,
including:
Exclusive Ticket Discounts
How to stay at a 5-Star Disney World Resort accommodation at a fraction of retail price
Most up-to-date discounts at Disney World and Orlando area
Airport Limousine Discounts
Where to find Disney merchandise at steep discounts
"Don't miss" Disney Dinner Shows
Extra Magic Hour Schedules at a glance
How to slash food cost
The latest on "Year of a Thousand Dreams Celebration"
Attraction and ride tips for the most popular rides
All new ticket savings strategies
Golf at Disney World's 6 unique courses
Tips for catching a Disney Tour for behind the scenes fun
And much more. From exclusive tips to Disney's little know Toll Free Number, it would take
virtually weeks to compile all the information available in this Guide.
"The Ultimate Disney World Savings Guide is updated continually so my readers always have
the latest information at their fingertips," says Haworth.
Haworth has become one of the most recognized Disney information resources online. For more
information about Beth Haworth and her Disney Savings Guide, visit her Ultimate Disney
World Savings Guide web site at http://www.dw-secrets.com/pr4.html.
###