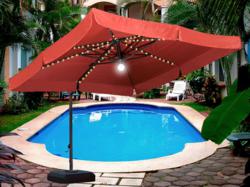 Transform outdoor spaces into hubs of activity
Chicago, IL (PRWEB) July 31, 2012
With several patents to their credit, WandaTech has been a leading innovator in outdoor patio umbrella technology for the past 10 years. Patiofurniturebuy.com is now carrying the full line of WandaTech umbrellas on its website which exhibit the forward-thinking features that Wanda is known for.
A patio umbrella, because of its size, makes a statement in the garden, on the deck or even at the pool. WandaTech has added more functions to its umbrellas which expand the versatility of the umbrellas for entertaining or for everyday life. Take, for example, the LED lighting systems that their umbrella models offer. Ribbons of LED light are woven with the canopy ribs to provide illumination at night – for dining or general light at night. The company employs a low-voltage power supply system so that lighted umbrellas can be used near pools or spas as safely as possible. Wanda Umbrellas that used to be stored after dark can now provide needed light during evening parties.
The Sing2U series of patio umbrellas gives consumers quality outdoor stereo sound which emanates from system integrated into the umbrella. Imagine plugging an iPod into a patio umbrella and getting beautiful stereo sound for entertaining or just backyard relaxing, without the need for a separate outdoor sound system. This system, too, uses a low-voltage power system to operate making it safe to use near pools and other water features.
WandaTech has been a leader in offset umbrella technology for both the residential and commercial markets. Their latest introductions enable Patiofurniturebuy.com to offer its online customers the most current technology to transform outdoor spaces into hubs of activity – at any time of day.
About PatioFurnitureBuy.com
PatioFurnitureBuy.com is an online retailer of top quality patio furniture operated by NetRetailers, Inc. which offers high quality furniture products offered at great prices. PatioFurnitureBuy.com specializes in custom made products, offering hundreds of finish colors, fabric designs, cushion trim options, selected table tops and much more to customize outdoor furniture to its customers' personal taste and style. PatioFurnitureBuy.com is a Better Business Bureau accredited business.