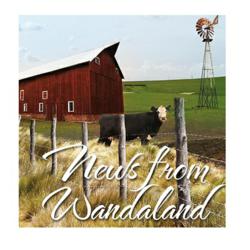 Literacy is essential to success in today's economy, and books are more accessible today than any other time in history. It truly is the time of information
Mabank, TX (PRWEB) October 17, 2012
Growing up during the Great Depression in a modest and rural East Texas home amongst fifteen siblings certainly presented challenges both financially and emotionally for a young impressionable boy. It was during these times Parker remembers sitting at a large table built by his father with his siblings while completing their studies by the light of a kerosene lamp. This short story "Studying School Lessons" and many other reflections of Parker's past can be found in his book News from Wandaland.
As a youngster Parker had very limited access to reading materials. The family borrowed books when time allowed and the few books they owned were treasured. Very little emphasis was placed on reading during the Great Depression as more pressing issues such as general survival took precedence.
It wasn't until later in life that Parker had an eye examination unveiling the reason behind his challenges with reading. The realization of the benefits of reading and being well equipped with the gift of language wasn't discovered by Parker until he embarked on the path to parenthood, and reading to his three children became part of everyday life. This is when he discovered his passion for books and writing.
Parker states "Literacy is essential to success in today's economy, and books are more accessible today than any other time in history. It truly is the time of information."
Despite the accessibility of books, according to the National Center for Education Statistics it is estimated that 30 million Americans over the age of 16 cannot read, and make up approximately 50% of the nations unemployed due to being functionally illiterate.
For Parker growing up during difficult times, having a physical disability effecting his sight and lack of access to reading materials could have made him part of this statistic. However, Parker has a passion for reading and writing that made it possible to successfully write News from Wandaland an enchanting book encompassing short stories, folklore and entertaining adventures from the past.
Parker states "The content of News from Wandaland was not written with the intention of becoming a book of short stories, it just happened that way. I truly mean it when I state that my wish is for others to find News from Wandaland a pleasurable reading experience and in general get them to read."
About the Author:
Born at the start of the Great Depression in Nacogdoches County Texas, Kodell Parker graduated from Crushing High School in 1949, and attended the University of Houston for a short time before enlisting in the Navy during the Korean War. Parker later studied electronics at Chenier College, Beaumont, TX and holds FCC licenses. Parkers versatile work experience includes oil exploration, ground radio technician for a major airline, cost planning consultant and author. Parker supports Christian Child Fund International, Angel Paws and various local charities.