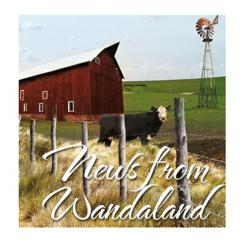 Mabank, TX (PRWEB) November 13, 2012
As Thanksgiving grows near, it is important to take time to look back and reflect on the things in life worth being thankful for. In News From Wandaland, a collection of short stories written by Author Kodell Parker, he includes "Thanksgiving Day," which reflects on the American holiday, its traditions, and what he is most thankful for.
The story starts by painting a traditional Thanksgiving scene, including family, football and turkey, before discussing exactly what it is that has made American life so great. As Americans, Parker believes members of the Armed Forces deserve the Nation's thanks and appreciation. Because of their service, Americans are able to enjoy individual and corporate freedom and liberty. He concludes the story with a recommendation that everyone who has the opportunity to thank a serviceman in person should do so.
The short stories, folklore and entertaining adventures contained within News from Wandaland are reflections on Parker's earlier years and rural life in East Texas, alongside his opinions on modern topics. "Thanksgiving Day" is just one of many stories told in the book.
News from Wandaland started with the author sending emails titled "You have News from Wandaland," named after his beloved wife Wanda, to family and friends across the states and to foreign lands. On many occasion, a reader would reply back to the e-mails requesting Parker to write a book containing everything sent over the years, and thus News from Wandaland the book was born. He wrote many of the stories while working for a large oil company in Dead Horse, Alaska in the 1970's, where he experienced completely dark days and cabin fever began to set in.
The intention of the book is for others to enjoy the collection of short stories and witty opinions, and it is with much gratitude for readers to allow Kodell Parker the opportunity to share this through News from Wandaland. For more information on where to purchase the book, visit http://www.newsfromwandaland.com.
About the Author:
Born at the start of the Great Depression in Nacogdoches County Texas, Kodell Parker graduated from Crushing High School in 1949, and attended the University of Houston for a short time before enlisting in the Navy during the Korean War. Parker later studied electronics at Chenier College, Beaumont, TX and holds FCC licenses. Parkers versatile work experience includes oil exploration, ground radio technician for a major airline, cost planning consultant and author. Parker supports Christian Child Fund International, Angel Paws and various local charities.