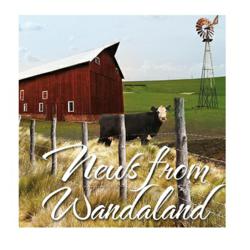 Traditions are memory makers, and they are a bit like a promise made. They can usually be kept and sadly can also be explained and reasoned away.
Mabank, TX (PRWEB) December 19, 2012
As the Christmas holiday approaches, it is important to take time to reflect on the importance of family and the traditions celebrated during the holiday season. In News From Wandaland, a collection of short stories written by Author Kodell Parker, he includes "Traditions," which reflects on the American holiday, its traditions, and how easily we let traditions go.
The story starts the morning after Christmas for the Parker's and divulges into the actual meaning of tradition, emphasizing the importance of maintaining traditions for the creation of memories and family heritage. Parker paints a vivid example around an anniversary celebration and the annual debut of fine china that eventually fades into nothing but a fond memory of something that was once done.
Parker remarks "Traditions are memory makers, and they are a bit like a promise made. They can usually be kept and sadly can also be explained and reasoned away. What a sad thing it would be to reach the winter years of life having only a lot of I wish I had in the way of memories."
The short stories, folklore and entertaining adventures contained within News from Wandaland are reflections on Parker's earlier years and rural life in East Texas, alongside his opinions on modern topics. "Traditions" is just one of many stories told in the book.
News from Wandaland started with the author sending emails titled "You have News from Wandaland," named after his beloved wife Wanda, to family and friends across the states and to foreign lands. On many occasion, a reader would reply back to the e-mails requesting Parker to write a book containing everything sent over the years, and thus News from Wandaland the book was born. He wrote many of the stories while working for a large oil company in Dead Horse, Alaska in the 1970's, where he experienced completely dark days and cabin fever began to set in.
The intention of the book is for others to enjoy the collection of short stories and witty opinions, and it is with much gratitude for readers to allow Kodell Parker the opportunity to share this through News from Wandaland. For more information on where to purchase the book, visit http://www.newsfromwandaland.com .
About the Author:
Born at the start of the Great Depression in Nacogdoches County Texas, Kodell Parker graduated from Crushing High School in 1949, and attended the University of Houston for a short time before enlisting in the Navy during the Korean War. Parker later studied electronics at Chenier College, Beaumont, TX and holds FCC licenses. Parkers versatile work experience includes oil exploration, ground radio technician for a major airline, cost planning consultant and author. Parker supports Christian Child Fund International, Angel Paws and various local charities.