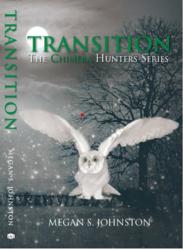 We are excited about the Summer Virtual Book Tour that has us busy through July and August and will connect us with many of our fans and readers!
Woodinville, WA (PRWEB) July 30, 2012
The first in a continuing-world six-part series, Transition introduces readers to the Chimera, an ancient race of beings who have kept themselves hidden from humankind – until now. Beautiful, powerful and able to change their shape at will, the Chimera were cursed by the gods, their souls split in two, forcing them to search the world to find their other half.
Transition is the story of Shelby O'Neil, a young woman attending her sophomore year of college at Washington State University. Haunted for months by recurring dreams of a mysterious man, Shelby goes on holiday with her best friend only to find that her nearest neighbor is the man from her dreams; his name is Develon Cole, he is a Chimera, and he is two hundred and eighty-eight years old. Drawn into a world of danger, intrigue and heart-stopping romance, Shelby must quickly adapt to a new existence and fight to find her place in it before it is too late.
Set in the lush and beautiful landscape of the Pacific Northwest, Transition is a fantastical and thrilling novel that combines adventure and the breathlessness of first love with the deeper themes of coming-of-age and finding one's place in a rapidly changing world.
Lovers of the paranormal romance genre will find themselves furiously turning pages through this brilliant and captivating debut novel, and will eagerly anticipate the second installment from this uniquely creative author.
Megan S. Johnston
Megan S. Johnston is a freelance writer and entrepreneur living in the Pacific Northwest. In addition to writing fiction, she runs several family-owned and operated businesses, which she started over twenty years ago. She is an avid reader of paranormal romance and a member of the Pacific Northwest Writers Association. She has four children and seven grandchildren and lives with her husband and two dogs in Woodinville, Washington. Transition is her début novel.
For more information on Megan S. Johnston, please visit http://megansjohnston.com/.
Find Megan S. Johnston on Facebook at https://www.facebook.com/MeganSJohnston.
Follow Megan S. Johnston on Twitter at http://Twitter.com/MeganSJohnston1.
Connect with Megan S. Johnston on GoodReads at http://www.goodreads.com/author/show/6003257.Megan_S_Johnston.