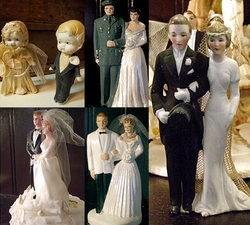 From billowing bridal gowns reminiscent of Scarlett O'Hara in 1930's era "Gone with the Wind," to sweetheart necklines and wing tips of the '50s, to abundant flowers and groovy facial hair of the '70s
West Hollywood, CA (PRWEB) July 27, 2010
With a watch and fine jewelry inventory that defines unique, Wanna Buy A Watch? is raising eyebrows once again with its most recent collection of original vintage wedding cake toppers!
The styles of the bride and groom represent the changing fashions of the times—from billowing bridal gowns reminiscent of Scarlett O'Hara in 1930's era "Gone with the Wind," to sweetheart necklines and wing tips of the '50s, to abundant flowers and groovy facial hair of the '70s. Made of bisque, ceramic, hard plastic, plaster of paris, or celluloid, and often hand painted and personalized to ressemble the bride, these charming vintage wedding cake toppers offer a nostalgic touch and a nice way to bring some of your parents' or grandparents era into your wedding ceremony. Dozens of choices, now available at WBAW? priced from only $75.00.
Originally intended as a keepsake of the cake itself, wedding cake toppers representing the bride and groom were placed atop almost every wedding cake in the U.S. by the turn of the century. Today, these timeless toppers make interesting conversation pieces for the collector or a chance to personalize a wedding cake with a little piece of the past—creating a legacy of their own—for the happy couple. Any way you slice it, WBAW? has something for every stage of wedded bliss.
A Melrose establishment for over 20 years, WBAW? is a favorite among watch connoisseurs and the Hollywood elite for its one-of-a-kind selection of vintage and contemporary watches and fine jewelry. The vast collection of watches by makers like Rolex, Patek Philippe and Cartier make enduring wedding gifts for the groom. And the antique, vintage and "new vintage" engagement rings and Art Deco, Edwardian and retro treasures are enough to make any bride blush.
Store hours, Mon-Sat 11-6. Closed Sunday & Monday.
8465 Melrose Los Angeles, CA 90069
(just east of La Cienega, north side of the street)
Call 1-323-659-0467 for extended store hours.
Details on their website http://www.wannabuyawatch.com
###