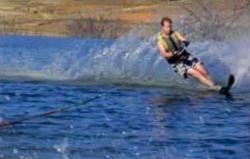 You can also enjoy the privacy of your own Lake Eildon inlet for swimming, fishing or launching your boat.
Mansfield, Australia (PRWEB) January 20, 2012
Lake Eildon is full and at its best. It has been 15 years since this part of Victoria has seen so much water on the lake and people are celebrating this piece of good fortune by making the most of it during their summer holidays. Wappan Station Owner Sarah Tehan joins the rest of the region in jubilation as the sheep station and farmstay accommodation welcomes a steady stream of visitors who want to take advantage of the famed lake's resuscitation from a drought that lingered for several years. The water level has risen and along with it, the spirits of business owners in the area.
As the lake recovers, so do the holiday destinations surrounding it. Wappan Station is definitely currently enjoying increased popularity among tourists. It has recently renovated Wappan Cottage, one of the charming country cottages on the property, to provide even better lodgings for its guests. The sheep farm offers attractive self-contained accommodations that make comfortable home bases for those who want to explore the area. The list of activities is endless. "You can swim, fish, water ski or simply relax on the shores of Lake Eildon. You can also ride the Rail Trail, as well as enjoy local wineries, markets and special events. If you like to snow ski, Wappan provides off-mountain Mt. Buller accommodation with cosy open fires within an hour's drive of the snow," Ms. Tehan enumerates some of the fun things visitors can take part in while staying at Wappan Station.
Wappan Station has benefited in many ways from the above average rainfall that the area experienced last year. It also caused a bumper year for grass growth, which the sheep thoroughly enjoyed. In this case, all aspects of the business are thriving. After all, besides being an excellent Mansfield accommodation, Wappan Station is one of the largest sheep stations in Victoria. "Wappan is one of Victoria's most efficient and productive farms, with only two full time people looking after 16,000 sheep. Our tightly organised operation runs five days a week and we have weekends off. We now offer one of the best farm stays Victoria has to offer."
As more and more people try to make the most of Lake Eildon in all its copious glory, it means more interest as well in Wappan Station as the property is actually adjacent to the lake. "You can also enjoy the privacy of your own Lake Eildon inlet for swimming, fishing or launching your boat," Ms. Tehan offers.
Conditions at the lake remain ideal, and with the number of people flocking to the waters for rest and recreation, Wappan Station is determined to offer the best Lake Eildon accommodation available.
# # #