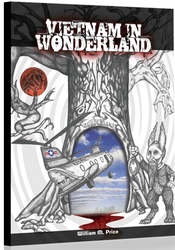 This book is for those that want to understand the lasting effects of the war in Vietnam more clearly. They want to know what animated this war and how history will tell the story.
Eastlake, MI (PRWEB) February 3, 2011
Vietnam in Wonderland, published in October of 2010 by author William M. Price, is now available for purchase via the book's website, Amazon.com, and Lulu.com. This breakthrough book chronicles the experience of Price himself and fellow Marine, Major Jerry Piatt. But this book covers much more than other Vietnam war stories; it delves into the questions surrounding this undeclared war and the bigger picture of the impact this period had and continues to have on the course of American foreign policy and society at large.
In the book, Price points to the inspiration that spurned this endeavor:
"Vietnam in Wonderland is a looking glass, waiting to be viewed by anyone willing to risk the protection and security of their personal comfort zone. People still talk of the 60's. But, the ambiance of the time is seldom investigated with serious consideration for its contribution to the enigmatic outcome of that decade. It was my new friendship with a retired Marine Major that stirred old ghosts from their hiding places. Jerry Piatt, my new friend and I, recognized the convivial effect their lost presence had on our frequent meetings. These visitors from the past had not been distilled through decades of political correctness, revised history, or subjective social agendas, which had disfigured most among the living. We learned to welcome their new haunt, thankful for the grace they brought to our lives and the contribution they made to Vietnam in Wonderland."
Vietnam in Wonderland is a relatively short book, just over 90 pages, but exposes the complete picture of both the fighting in Vietnam as well as a unique perspective on the conditions at home and the mindset of a nation. Price also addresses the lasting effects and pervasive questions that still revolve around the era.
"This book is for those that want to understand the lasting effects of the war in Vietnam more clearly. They want to know what animated this war and how history will tell the story. They want to understand what the era did to the moral compass of our society," says Price. "These are hard questions and I think my experience and the experience of Major Piatt will shed some light and offer something in the way of answers."
Initial reviews of Vietnam in Wonderland have been resoundingly positive.
"What a unique and powerful perspective! William Price communicates his first hand experience with great effectiveness and fervor. I can honestly say this little book has something that sets it far apart from the sea of literary work covering this controversial war. I recommend reading with an open mind and a little humility. A terrific text and dose of reality." (Review submitted by dympha on October 17, 2010)
History is the result of the subjective evaluation of events, made by previous generations. Price believes that forty years may be a sufficient amount of time to revisit the Vietnam experience and take a more honest look.
To read reviews of Vietnam in Wonderland, or to purchase the book, visit WonderlandsWarinVietnam.com.
About William M. Price:
William M. Price is a Vietnam Veteran; he is a native of Michigan, enlisted in the United States Marine Corps for three years from Sept 1966 to Sept of 1969. He served in Vietnam from April 1967 to June of 1968. In addition to authoring and publishing this book, he is married with six children and currently has six grandchildren.
###