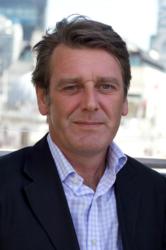 Their skill and experience ensures deep understanding of how the Waratek Cloud VM for Java makes the deployment of existing Java and JVM based applications in a true multitenant and elastic manner a reality for both in-house or Cloud delivered solutions
(PRWEB) October 16, 2012
Martin Hand joins Waratek from VMware, where he was part of the EMEA team responsible for partners and alliances for the VMware Spring/vFabric Cloud Application Platform products and services. Hand has indepth knowledge of virtualization and the benefits of Cloud delivery, skills that will ensure the swift and successful deployment of the Waratek Cloud VM for Java. With more than 25 years experience in Product Development, Sales and Marketing of IT Solutions and Services, Hand was one of the founders of DART Limited, a subsidiary of Intercapital Group, specialising in Derivative Pricing and Risk Management systems which was sold to AFA Systems in 2000. He was the Business Development Director EMEA for Gemstone Systems specialising in Enterprise Data Caching and Grid Computing. Gemstone was acquired by VMware in 2010 and post the acquisition Hand managed the Partner Eco System for the VMware Spring/vFabric Cloud Application Platform within EMEA. Hand has demonstrated success delivering consistent and sustained revenue growth while building a solid global client base. Hand is located in our London office.
John Williams joins Waratek from Progress Software where he has gained a strong background in real time technologies across different infrastructure solutions including platforms, applications and middleware. He has gained valuable experience from working at vendors such as Reuters, TIBCO, SmartStream and SunGard which has given him a strong understanding of technologies involving speed and performance in banking and trading systems. Williams is a proven Senior Sales Executive with 20 years of direct sales experience, selling technology solutions to Fortune 500 companies across North America, with a focus on Financial Services - Institutional, Retail and Insurance Organizations. Williams has secured many high value sales for enterprise-level software involving technologies such as Middleware/EAI, Application Development, Data Warehousing and Enterprise Applications. Williams is based in our New York office.
'We are delighted to have onboard two leading market experts to support our expansion. They have detailed knowledge of the issues facing organizations who are trying to harness Cloud benefits for their existing applications.' says Brian Maccaba, CEO of Waratek. 'Their skill and experience ensures deep understanding of how the Waratek Cloud VM for Java makes the deployment of existing Java and JVM based applications in a true multitenant and elastic manner a reality for both in-house or Cloud delivered solutions', says Maccaba.
Waratek are exhibiting at JAXLondon, 16 - 17th October and Waratek Founder and CTO John Matthew Holt will be speaking about 'Achieving Genuine Elastic Multitenancy for Java Applications with the Waratek Cloud VM for Java.
The Waratek Cloud VM for Java is available to download now with a free 30 day trial period.
About Waratek:
A dynamic start-up, Waratek is a team of seasoned IT professionals, drawn from around the World to a Dublin Headquarters where extensive and revolutionary research has led to more than 50 international patents, culminating in game-changing Cloud technology. The company has developed the Waratek Cloud VM for Java, a Java Virtual Machine which introduces Java Virtual Containers which work as Java Hypervisors. Similar to virtualization of the OS, Waratek provides the same attributes to virtualization of the JVM.
This game changing technology allows companies to get true Multitenancy, Elasticity and Metering of Java based applications enabling the benefits associated with Cloud delivery to become a reality for Java Applications. There is no need to redevelop your Java based applications for deployment on the Cloud or virtualized infrastructures; simply migrate to the Waratek Cloud VM for Java with no Java code changes.
The Waratek Cloud VM for Java provides greater application density than traditional VMs and can operate on top of the leading Hypervisors deployed in the marketplace today or on bare metal as a Hypervisor in its own right.