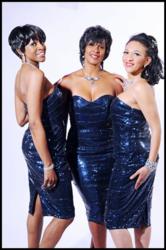 "... it was decided that the best 1960s Tribute Band would be the 'Motown Marvels' who perform all the Motown hits..."
London, UK (PRWEB UK) 28 February 2013
Warble Entertainment Agency (http://www.warble-entertainment.com) is an entertainment agency that provides live band hire for weddings, parties, corporate events and launches throughout the whole of the UK. With a roster that includes everything from Jazz Bands to String Quartets, Tribute Bands to Harpists and Rock Bands to Swing Bands there was nobody better placed to provide the live music for the DVD launch of Whitney Houston's last outing in the movie 'Sparkle'.
Samantha McGowan, the booking's entertainment coordinator, explains more. "More often than not we tend to hire bands to perform in the evening at a wedding reception, or perhaps as the headline entertainment at a function or corporate event. However, this launch was rather different and involved quite a lot of detail. The organisers wanted to provide a '1960s Girl Band Experience' to tie in with the promotion and so wanted the media to get involved in a bigger way than just watching the film. After working closely and going through various options, it was decided that the best 1960s Tribute Band would be the 'Motown Marvels' who perform all the Motown hits, not only by The Supremes and The Vandellas but also include songs by The Jackson Five, Stevie Wonder, The Temptations and everything in between!"
But, how were the media going to get the full 1960s experience? "Well, after stylists were used to great effect to transform hair, make-up and dress," Samantha explains, "the journalists were ready to be taught their routine by the fabulous Motown Marvels."
The tribute band picked out the classic song 'Stop! In The Name Of Love' and started to put the media through their paces. MSN Lifestyle Editor, Ginny Weeks says, "We had about 10 minutes to practice the steps, which was a relief as any less and I would have struggled to remember them! The lyrics weren't a problem, however, as the song is such a classic we knew all the words off by heart already."
The journalists then took to the stage with the tribute band, The Motown Marvels, and showcased their talents to the room! Ginny says, "It was great learning the routine and being part of the group, who all had fantastic voices. But it still felt pretty nerve-wracking getting up on stage!"
The event was a fantastic success and those in attendance included The Huffington Post, My Daily, MSN and Digital Spy.
When asked if they would be happy to book live music and bands for any similar events Samantha from Warble says, "Without a doubt! Even though the event involved more work than most bookings and I had to make sure all the small details were covered it is really rewarding when they come off and everyone has a great time. Personally as well, I've always been a huge fan of Whitney Houston and so to play a part in something like this, no matter how minor, feels amazing."
For further information about booking one of Warble Entertainment Agency's tribute bands contact samantha(at)warble-entertainment(dot)com
Warble Entertainment Agency is the UK's most innovative live music booking agency and was designed to make booking live tribute bands and entertainment simple and straightforward. As a winner of website awards and endorsed by many of the top wedding industry and corporate professionals, Warble has created a transparent and informative approach to entertainment hire for events UK wide. For more information, please visit http://www.warble-entertainment.com